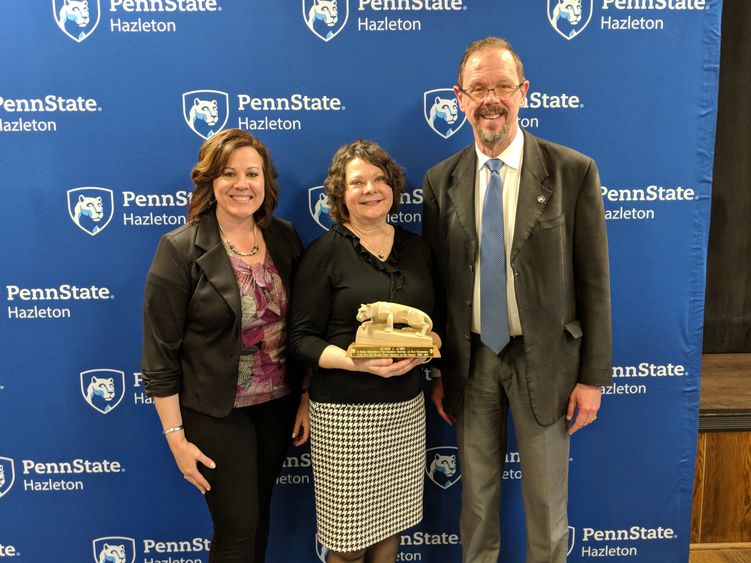 HAZLETON, Pa. — Penn State Hazleton honored employees marking milestone anniversaries with the University during its annual "Years of Service" luncheon held recently.
Employees honored included:
One year: Jennifer Laregina, campus nurse; Allen Koehler, director of admissions and financial aid; William Yourey, assistant professor of engineering; Andrea Shook, practical nursing program coordinator; and Erik Angel, information resource and support specialist.
Five years: Joseph Ranalli, assistant professor of engineering; David Starling, assistant professor of physics; Karen Sofranko, advising manager; Monica Croshaw, janitorial worker; Theresa Cartwright, residence hall utility worker; and Jayne Schreppel, food services and production worker.                                  
Ten years: Gina Monks, assistant teaching professor of mathematics; Karen Beruck, student advocacy specialist; Beverly Labosky, physical therapy assistant program academic coordinator; Gina Tarud, associate teaching professor of physical therapy; Paul McDermott, lecturer in business and business program coordinator; Stephen Demko, police officer; Gary Lawler, chancellor; Jaculin Scarcella, alumni and development stewardship officer; and Lisa Hartz, information resources and services support specialist.
Fifteen years: Patrice Lombard, records specialist.
Twenty years: Doreen Verbonitz, food services and production worker; Lisa DeLaurentis, University Police district commander; and Eric Krieger, maintenance mechanic.
Thirty years: Margaret Esopi, regional registrar.
Debra Jemo, who recently retired after 16 years as a counselor at the campus, also was honored during the event.