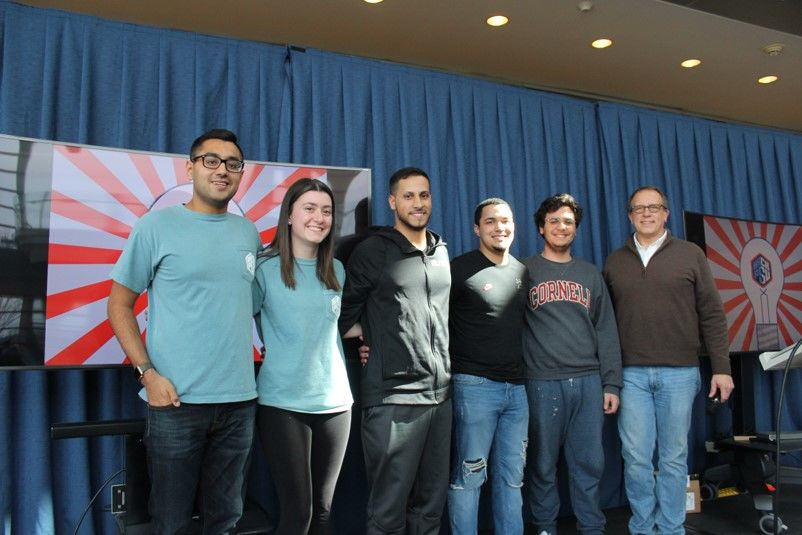 Penn State Hazleton students recently placed first in a category of HackPSU's Hackathon held annually at University Park.
Josiel Delgadillo, a sophomore majoring in information sciences technology at Penn State Hazleton, and Gabriel Ynoa, a senior majoring in IST at Penn State Hazleton, partnered with Nicolas Salomon from Rochester Institute of Technology to achieve the ranking in the Penn State Teaching with Technology Track.
More than 700 students on 74 teams demonstrated their projects during the largest Hackathon to date, according to HackPSU, which organizes the event.
"Two important pillars at Penn State are transforming education and driving digital innovation, and events like HackPSU are shining examples of those pillars," said Michael Kubit, vice president for information technology and chief information officer at Penn State. "At its core, HackPSU is about providing an opportunity to put technology to work in a new way."
The hackathon brings students from all majors and experience levels together to experience a hackathon. Delgadillo, Ynoa and Salomon chose to participate in the "Hack the Classroom" challenge, where they were tasked with using Amazon's Alexa to enhance teaching and learning in a classroom. The challenge was presented by Penn State Teaching and Learning with Technology.
It took the students nearly six hours to integrate Alexa with Windows and make their idea work. They were then able to create a website for the project, post the code on a GitHub repository and create many different commands for Alexa to execute on their computers.
"We were able to speak to Alexa and she was able to perform the commands we gave her. She was able to open Microsoft Access, Microsoft Excel, open Internet Explorer or Google Chrome, and many different websites. She was also able to lock our screens," Delgadillo said. "This project was also compatible with multiple computers where it worked simultaneously and we felt like this technology can be used in a lab setting, which can assist the teacher/professor in controlling what is happening in a classroom. This technology can also improve learning by allowing students to be all on the same page."
Aside from coding for 23 hours, the students participated in a HackPSU Bootcamp and two Google Workshops, where they learned about Google's Cloud Platform and tips for interviewing with the company, and spent time networking with other students and employers.
"After demonstrating and seeing the reactions and feedback from the judges and students we had our eyes on first place. We were talking about how amazing it would be to win first place, especially for two students from a commonwealth campus and a student from a different institution. Once we were called for the first-place placement, we finally felt like our hard work became a reality," Delgadillo said.
The team plans to continue the project due to its future potential, adding more commands and capabilities while improving the response time.
The hackathon event is held by Major League Hacking, the official student hackathon league. The event has multiple sponsors including Google, GM, PWC and Amazon Web Services.