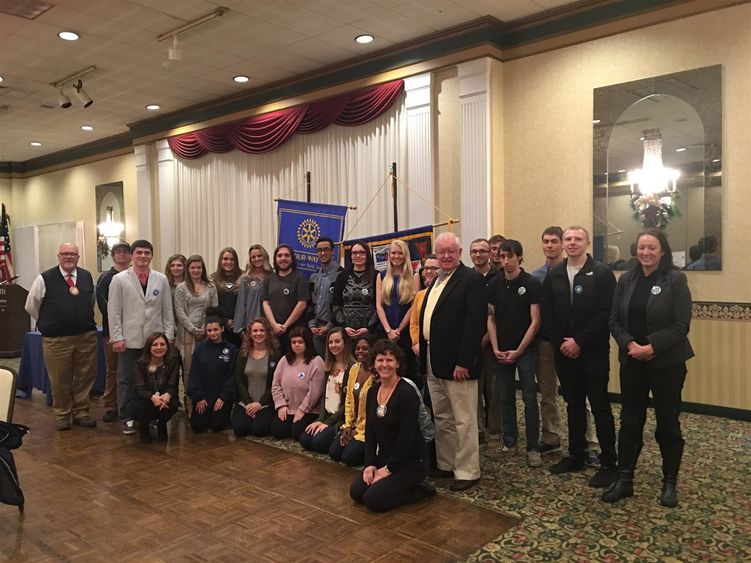 HAZLETON, Pa. — Students from Penn State Hazleton recently presented their projects to a meeting of the Hazleton Rotary Club.
Students in Arts and Architecture 121: Design, Thinking, and Creativity demonstrated a trade show at Rotary featuring ideas designed to make life easier for senior citizens. The course was held at Penn State Hazleton for the first time this semester and is taught by Associate Professor of Business Sherry Robinson, a member of the local Rotary Club, and Business Program Coordinator Paul McDermott.
Each member of Rotary was given 100 "Rotary Bucks" to vote for a favorite project in addition to a gold coin to give to the project the Rotarian felt was the most special.
The team with the idea for a GPS watch specifically designed for senior citizens had the most Rotary Bucks and coins at the conclusion of the meeting. The watch's features would include the ability to contact family members if the wearer fell or got lost. The runner-up was the team that created a knee brace that would emit heat or cold as needed.
"The students in the course are from a variety of majors, with all majors welcome. The winning team had a student from information sciences and technology and one majoring in administration of justice. This mix of skills and interests worked very well for the team as they worked on their idea and as they proceed with development of the actual product," Robinson said.
A few weeks before the Rotary presentation, the teams participated in Penn State in Motion, a program where those studying rehabilitation and human services at Penn State Hazleton interact with senior members of the community. Penn State in Motion is overseen at the campus by Assistant Teaching Professor of Rehabilitation and Human Services Lorrie Kramer. The teams spoke to the participants about their ideas, seeking their feedback to improve their designs before presenting them to Rotary.
They also made their presentations to Jocelyn Sterenchock, CAN DO's coordinator of entrepreneurial services, and Jack St.Pierre, retired director of CAN DO's business incubator, who came to class as "sharks" in an experience similar to the show "Shark Tank" to give the students practice for Rotary and share their feedback and ideas.