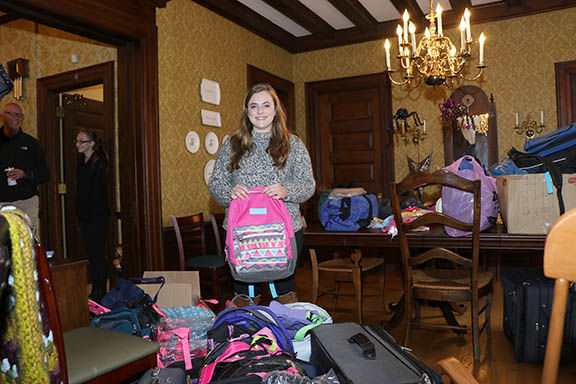 HAZLETON, Pa. — More than 300 children in foster care will have a better transition experience thanks to the idea of Penn State Hazleton student Lauren Nietz and the generosity of her Penn State Hazleton community.
Nietz, a junior majoring in rehabilitation and human services, partnered with Hazleton-based Brandon's Forever Home on "Operation Duffle Bag," rallying her fellow students and others at the campus to collect duffle bags and backpacks for the organization, which assists foster children in Luzerne County.
On Oct. 30, Nietz, Assistant Professor of Rehabilitation and Human Services Garrett Huck, and several Penn State Hazleton student volunteers took 319 bags to Brandon's Forever Home, where they were met by Lorine Ogurkis, co-founder of the organization.
"I'm so excited to have you here. I know what you're capable of and the connections you will develop. There will be children in foster care wherever you go," Ogurkis told the students.
She explained the story behind the organization's founding and the importance of children in foster care having a nice bag to transport their things. Before Brandon's Forever Home was founded in 2014, all county foster children used a garbage bag, which is now against policy.
Nietz said it really bothered her learning the children were using garbage bags and she wanted to come up with a way to help. She described the response from the Penn State Hazleton community as "overwhelming," saying, "I had no idea how many people were so eager to help and wanted to get involved and it really blew me away. So many people came together to make this collection a success and we were able to make a difference in the lives of kids who need someone to reach out a hand and are willing to help."
Ogurkis told the group, "The bags you brought today are huge for children in foster care. They are the simplest of things, but they're the biggest of things. Together we can fix something so disheartening."
Foster children who come to Brandon's Forever Home can choose a bag from the closet and fill it with any items they want or need. The home is full of clothing, books and toys for children of all ages. Bags are also packed with dental kits, stuffed animals and pajamas and taken to Luzerne County Children and Youth for workers to distribute to children who are taken into foster care.
Ogurkis gave the group a tour of the home, sharing her passion for foster children and making them feel loved and wanted.
"I was amazed by Brandon's Forever Home," Nietz said. "Walking through some of the rooms actually brought a few tears to my eyes because I saw proof that when a community comes together, amazing things can be accomplished. Walking though there was truly a humbling experience."
Huck noted that many rehabilitation and human services students have expressed interest in working with children in various capacities.
"It's great to see students who have potential in a variety of careers seeing this home. I can see they're all really touched," he said.
Nietz agreed, saying, "Working with these organizations will be a huge help in my future because I can learn so much about the various populations that I will come across in the work world and gain firsthand experience in working with these populations. It also gave me a huge surge of motivation because I got to meet other people like me who really want to help others and make a difference, and I got to see that they are really making a difference, so I can, too."
Nietz also received donations from Pennsylvania State Police Troop N, whose troopers dropped off a box of bags at the campus and spoke with her about the collection drive.
"Many kids in foster care might have a negative view of law enforcement, so we're glad to step in and help," said Trooper Anthony Petroski III, community services officer, who noted the troop's prior partnership with Brandon's Forever Home during a summer picnic with the children.