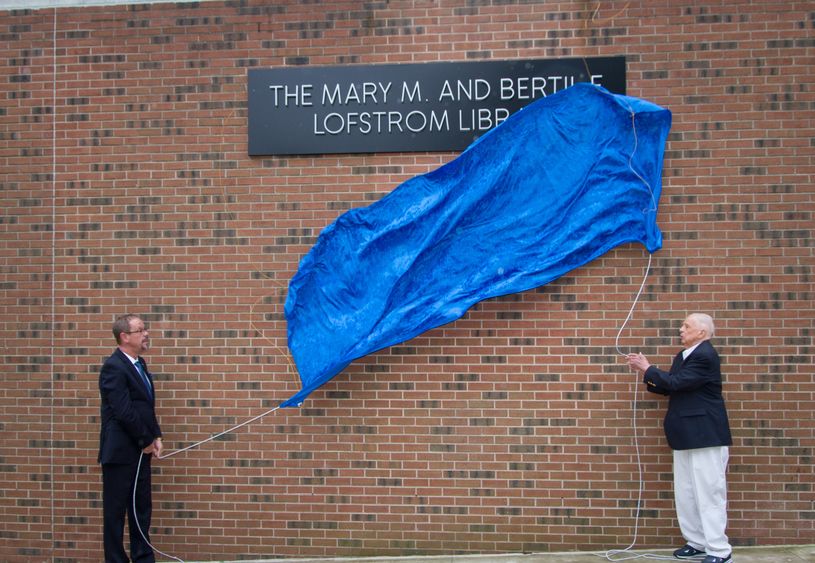 Penn State Hazleton formally named its library the Mary M. and Bertil E. Lofstrom Library during a ceremony on September 13.
The building was named in honor of longtime supporters Mary Lofstrom, who passed away July 2, 2016, and Bert Lofstrom, who attended the ceremony. The naming is the first time a campus building will carry the name of an alumnus.
"We are here today to mark a momentous occasion in the history of Penn State Hazleton. Today we will name the library after two significant donors, Mary and Bert Lofstrom, whose generosity has already had an extensive impact on the campus and the university," Chancellor Gary Lawler said. "Bert and Mary have been strong supporters in terms of both financial support and donations of artwork, which grace the walls of our campus and the Palmer Museum at University Park."
Bert's connection to Penn State Hazleton began in 1950 when he entered as a freshman. A native of Philadelphia, Bert moved to the Hazleton area with his mother when he was in his late teens. Bert completed his degree in commerce at University Park in 1954. While in college, he participated in the Air Force Reserve Officers' Training Corps and served in the Air Force from 1954 to 1976, retiring as a colonel. While part of the Air Force, he earned a master's degree from Michigan State University in 1964.
Mary was born in Cobalt, Ontario, Canada. She earned a bachelor's degree from St. Louis University and a master's in nursing from Catholic University in Washington, D.C. She began a 26-year nursing career in the Air Force that culminated in the rank of colonel. During her service, she was a nursing administrator and military consultant to the Surgeon General for 14 years and a flight nurse for 11 years, serving 10 years on overseas duty. After her passing, she was interred in Arlington National Cemetery.
The Lofstroms met while serving in the Air Force and celebrated their 50th anniversary prior to Mary's passing. After they retired from the Air Force, the Lofstroms settled in Alexandria, Virginia, where Bert worked as a financial planner and was the founding partner of LaborFinders, a labor sourcing service. They retired to Vero Beach, Florida, in 1989.
Through the years, the couple donated artwork and made monetary gifts, which will be used to help Penn State students pursuing a degree in business, as Bert did. For their generosity to Penn State, they were inducted as members of the Mount Nittany Society at University Park and the Highacres Society at Penn State Hazleton.
"On behalf of the students, administration, faculty and staff of Penn State Hazleton, I would like to express our gratitude to this very generous couple, Bert and the late Mary Lofstrom. Your legacy here at Penn State Hazleton will be visible to all as we now name the library The Mary M. and Bertil E. Lofstrom Library," Lawler said.
"Higher education today presents more opportunities for learning, innovation and experience than ever before. In a time of declining public support and rising costs, private philanthropy is essential for sustaining the quality of a Penn State education and for making its benefits available throughout our communities," said campus Director of Development Eileen Kuperavage.