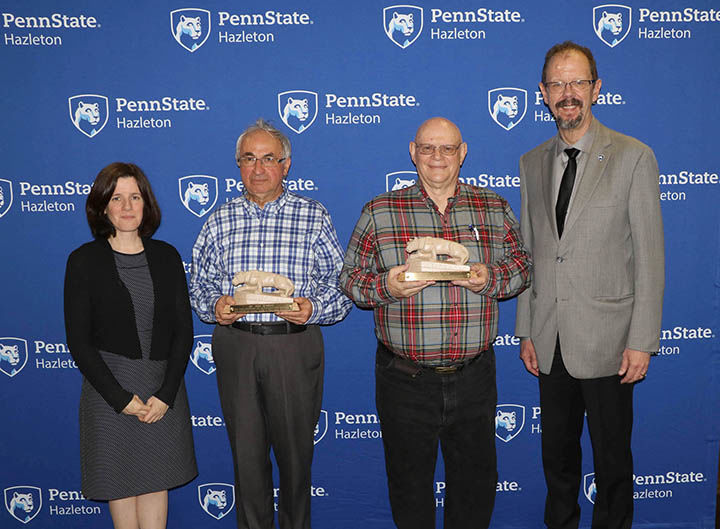 HAZLETON, Pa. — Wieslaw Grebski, associate professor of engineering, and Daniel Vice, senior instructor in earth and mineral sciences, are retiring from Penn State Hazleton and were honored at a ceremony at the campus.
Grebski was born in Poland and earned his bachelor's and master's degrees in mechanical engineering and doctorate in technical sciences from the Stanislaw Staszic University of Mining and Metallurgy in Krakow, Poland, where he also taught as an adjunct and later assistant professor.
Grebski joined the faculty at Penn State Hazleton in 1984. He is an associate professor of engineering and coordinator of Penn State Hazleton's bachelor of science degree program in engineering with a focus in alternative energy and power generation, a program in which he was instrumental in creating. The program is offered exclusively at Penn State Hazleton, and led the way in creating articulation agreements for the degree with Luzerne Community College, Lehigh Carbon Community College and Northampton Community College. The first class of graduates earning the degree in 2014 established an academic award in his honor that they continue to fund each year.
"Dr. Grebski has always kept students and their unique needs at the heart of his teaching," Director of Academic Affairs Elizabeth Wright said.
He received 11 teaching and advising awards over the course of his career with Penn State, most notably in 2007 when he earned the highest award for faculty at Penn State, the Milton S. Eisenhower Award for Distinguished Teaching.
Chancellor Gary Lawler described Grebski as "an incredible member of this campus," saying, "He is committed, very loyal and very supportive to our students and Penn State Hazleton."
Grebski brought a pilot program to Penn State Hazleton: Realigning Pathways in Engineering Technology, a multi-faceted approach to improving the engineering technologies programs on campus and throughout the university. This program is designed to address changes in industry and the global economy, improve preparation of high school students considering a career in engineering technology, and impact recruitment and retention of engineering students. Grebski also taught an introductory engineering class to dual-enrollment students at four local school district.
He has published numerous articles on topics primarily related to undergraduate engineering education and sustainability and made many national and international conference presentations. A member of several professional organizations, he served as the secretary, vice chair and chair of the Mechanical Engineering Technology Department Heads Committee of the American Society of Mechanical Engineers from 1995 to 1997.
At Penn State, Grebski has served on a variety of committees influencing both his colleagues and his courses. In the community, he has served as a consultant for the CAN BE Business Incubator, the Pennsylvania Technical Assistance Program and the Northeastern Pennsylvania Industrial Resource Center.
Vice began his time with Penn State as an instructor at both the Hazleton and Schuylkill campuses. In 2009, he became a full-time instructor at Penn State Hazleton and was promoted to senior instructor in 2015.
He holds a bachelor's degree from Oregon State University, a master's degree from Arizona State University and a doctoral degree in earth sciences from Penn State.
An experienced geologist, he worked in his field for many years, including 11 years as a geologist with the U.S. Bureau of Mines and Burlington Northern Railroad. He continues to hold certification as a professional geologist with the Wyoming State Board of Professional Geologists.
Vice was well known for the many field trips he offered his students to mines and caves such as Centralia and Crystal Cave.
"Dr. Vice was always looking for opportunities to have his students go out into the field to learn more about what they were studying," Wright said.
He also sponsored many undergraduate research projects, several of which were presented at the campus research fair each year.
"Dr. Vice has made tremendous connections with students over the years. He is a true campus citizen who is greatly engaged in campus service and has always been committed to helping students find their way," Lawler said.
His roles on campus committees include membership on the Strategic Planning Committee, Lecture Committee and Library Committee, where he also served a term as chair. He served a term as vice president of Penn State Hazleton's Faculty Senate and was a judge for National History Day at the campus for 10 years.
Vice is the author of more than 30 articles, book chapters and abstracts focused on coal fires, geothermal activity and diatomaceous marl in western Kansas.