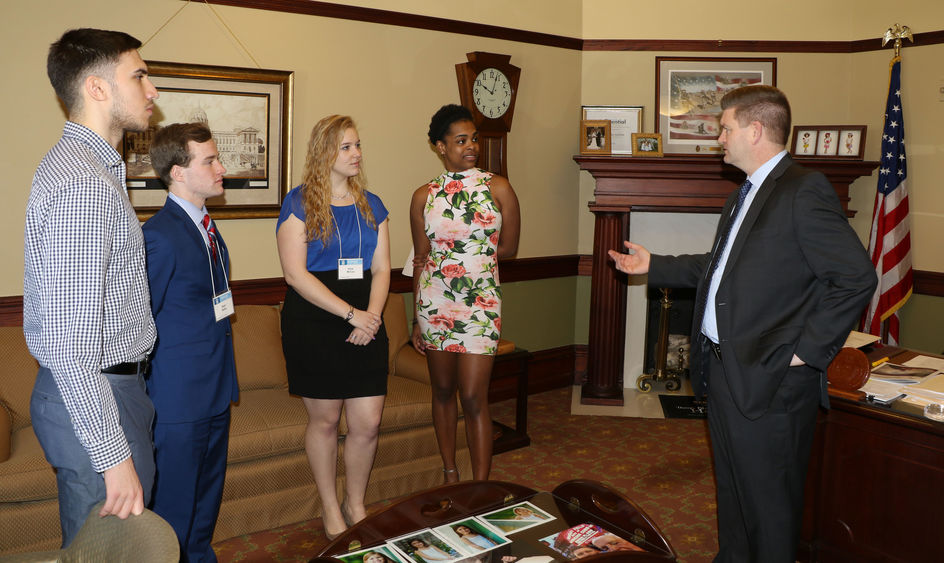 HAZLETON, Pa. — Students from Penn State Hazleton joined hundreds of other Penn Staters at the Pennsylvania State Capitol on March 22 to share with legislators the positive impact that Penn State has on the Commonwealth.
Junior Dixie McCoy, a liberal arts major; sophomores Emmanuela Blanc, a broadcast journalism major, and Edward Callaham, an information sciences and technology major; and first-year students David Acker, a chemical engineering major, and Ramkumar Jayaveerapandian, a finance major, participated in Capital Day, when Penn State supporters talk about the importance of state funding for Penn State and its operations.
The students, on their first visit to Capital Day, were eager to have the opportunity to meet with state legislators.
"This is one of the few opportunities I'll have as a 20-year-old to talk to legislators. Phone calls are easy to dismiss, so what better opportunity to lobby than in person?" said McCoy, who is president of Penn State Hazleton's Student Government Association (SGA). "Hazleton has enabled me to be a more outgoing person, to do things that I wouldn't normally do. It's made me well-rounded."
Callaham said, "I wanted to come because I think it will be a great opportunity to network and help the common student. Since we're a smaller campus, I felt it was my responsibility to reach out and speak to the legislators."
Blanc, Callaham and McCoy met with Sen. John Yudichak, who serves the Hazleton area as part of his senatorial district and told the students, "Penn State Hazleton is doing a great job." He spoke with the students about their majors and future plans, their shared Penn State experiences, his pathway to government service and the importance of grassroots advocacy.
One of the highlights of Capital Day is a rally in the rotunda, a gathering of hundreds of Penn State students, leaders, staff and alumni who congregate on the marble steps of the rotunda in a large-scale show of support for Penn State. The rally featured well-known emblems of Penn State, including members of the Blue Band, the Nittany Lion, Penn State cheerleaders and Berkey Creamery ice cream.
Speakers at the rally included Paul Clifford, CEO of the Penn State Alumni Association; Kevin Steele, president of the Penn State Alumni Association; and Penn State President Eric Barron, who thanked attendees for their "ongoing support, advocacy and enthusiasm for Penn State."
Barron said, "We are grateful for the state support we receive every year, which is an investment that yields exceptional returns. Consider that Penn State is the single largest contributor to the Pennsylvania economy, supporting more than 67,000 jobs statewide. We educate nearly 100,000 students, more than any other university in the Commonwealth. Nearly 70 percent of our undergraduates are Pennsylvania residents. Scientific research conducted at Penn State generates approximately $2 billion in economic impact and supports more than 18,000 jobs throughout the Commonwealth."
Blanc, Penn State Hazleton's student affairs chair for SGA, was impressed by the rally and by students making a visible stand for something important to them.
"The students here are fighting for a really good cause, so this is a win-win. It's cool to see students fight for something they like," she said.