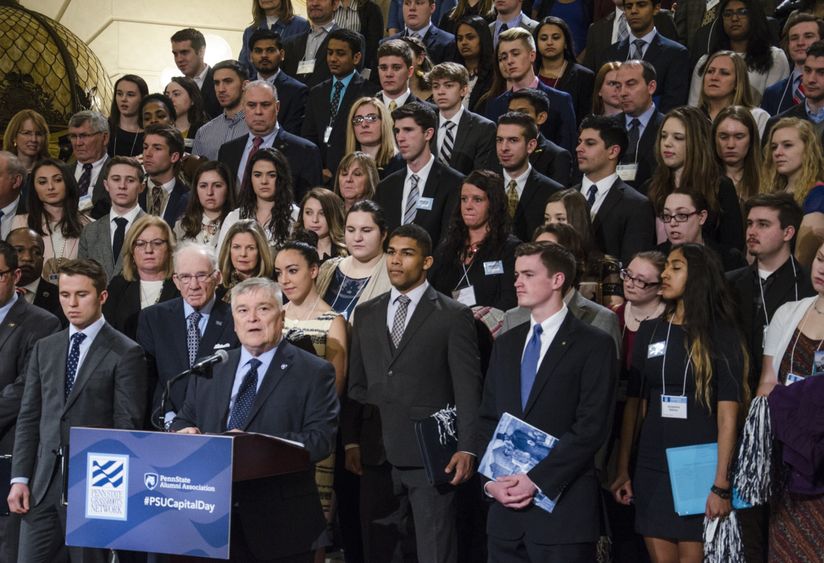 HARRISBURG, Pa. — Blue and white filled the halls of the state Capitol today (March 22), as the Penn State Grassroots Network joined forces with Penn State alumni, network volunteers and student government groups to meet with lawmakers to discuss the importance of supporting Penn State.
"We are here today because of our love for Penn State and because we want to raise our voices in support of Penn State students and Penn State — now, and 'for the future that we wait' as loyal Penn Staters," said Kevin Steele, president of the Penn State Alumni Association.
"How are we doing that? By rallying, right here and now in the Capitol rotunda, as advocates for Penn State; by sharing our personal stories about the ways that Penn State has helped prepare us for life and for our careers; by visiting with our legislators and telling them how state support helps Penn State stay world-class, accessible and affordable; and most importantly, by urging our lawmakers to support the highest level of funding possible this year for Penn State and for higher education in Pennsylvania."
Penn State President Eric Barron said, "We are grateful for the state support we receive every year, which is an investment that yields exceptional returns. Consider that Penn State is the single largest contributor to the Pennsylvania economy, supporting more than 67,000 jobs statewide. We educate nearly 100,000 students, more than any other university in the Commonwealth. Nearly 70 percent of our undergraduates are Pennsylvania residents. Scientific research conducted at Penn State generates approximately $2 billion in economic impact and supports more than 18,000 jobs throughout the Commonwealth."
Now in its eighth year, the focus of Capital Day is for small groups of Penn State advocates to meet with elected officials to share their stories of how the Commonwealth's support of Penn State has impacted their lives, while also positively benefiting their local communities.
"I wanted to come because I think it will be a great opportunity to network and help the common student," said Edward Callaham, an information sciences and technology sophomore from Penn State Hazleton. "Since we're a smaller campus, I felt it was my responsibility to reach out and speak to the legislators."
Fellow Hazleton student Dixie McCoy, a junior majoring in liberal arts, said she was eager to discuss the impact of education face-to-face with lawmakers.
"Hazleton has enabled me to be a more outgoing person, to do things that I wouldn't normally do," said McCoy, who is also the campus' Student Government Association president. "It's made me well-rounded."
During their office visits, volunteers discussed with legislators how state support helps Penn State keep tuition increases as low as possible, especially for Pennsylvania residents; keeps the University's educational programs strong and suited to Pennsylvania's workforce needs; keeps its 19 undergraduate campuses across the state strong; helps ensure student career success; and boosts job growth and economic development across the Commonwealth.
The meetings also provided an opportunity to show how the legislature's continued investment in Penn State is an investment in the Commonwealth's future, its economy and citizens' quality of life.
In addition to meetings with legislators, Capital Day included a rally in the Capitol rotunda featuring members of the Penn State Blue Band, the Nittany Lion mascot, Penn State cheerleaders and Berkey Creamery ice cream.