Updated scenic overlook to be named, dedicated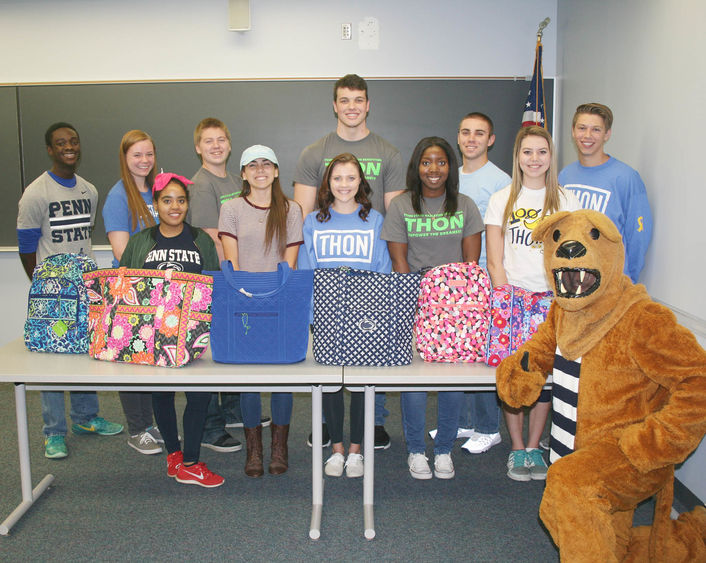 HAZLETON, Pa. — Penn State Hazleton has announced the schedule for Community Day, an opportunity for the Greater Hazleton community to visit the campus, from 1-4 p.m. on Sunday, Oct. 16. Free and open to the public, Community Day events were planned by the Penn State Hazleton Council, the campus advisory board, and members of the Greater Hazleton Chapter of the Penn State Alumni Association.
Community Day is designed to celebrate the relationship between Penn State Hazleton and the local community, showcase the resources of the campus and the university and bring attention to the talents of local groups as well as those of campus students, faculty and staff.
The event is suitable for all ages, featuring entertainment and fun, historical and educational components, and food and refreshments.
Sponsors for Community Day include Penn State Hazleton Council, Greater Hazleton Chapter of the Penn State Alumni Association, Penn State Hazleton Alumni Society, John Beltrami, Gordon L. Bigelow, Anthony Cusatis, Lewellyn Dryfoos III, Dr. Joseph Donato, Harry Filbert, William Flood, Gene Gallagher, Terry Jones, Mary Celeste Kosko, Gary Lamont, Linda and John Lease, Jeff Mason/Leader Data Processing; John R. Meier, Mountain City Lions Club, Don Pachence, Drs. Keith and Sharon Rohrbach, Joseph Rudawski, Attorney Pasco Schiavo, Lisa and Ken Schugardt and Electric Frog Designs.
A special feature of Community Day will be the naming and dedication of the scenic area overlooking the Conyngham Valley. Ronald Balasco Jr. '81 made a donation to the campus and, in honor of his parents, the location will be named the Barbara J. and Ronald L. Balasco Sr. Bella Vista. Starting at 2 p.m., the ceremony will include remarks, unveiling of the name and a performance by Wild Blue Yonder, Penn State Air Force ROTC a capella group.
The schedule of events and their locations is as follows:
12-3 p.m.
Door prize and tricky tray raffle to benefit THON, Penn State's dance marathon that raises money to fight childhood cancer; gymnasium hallway.
12-4 p.m.
Campus bookstore open selling a variety of Penn State-themed merchandise.
1-4 p.m.:
Annual Coach and Vera Bradley bingo fundraiser for THON; gymnasium. Doors open at 12 p.m. Tickets for the bingo are $20 in advance and $25 at the doors. Tickets can be purchased by visiting the Office of Student Affairs, 105 Butler, from 8 a.m. to 5 p.m., Monday through Friday. Additional information is available by calling 570-450-3160.
Campus tours led by student Lion Ambassadors; meet at Schiavo Hall entrance.
Photos with the Nittany Lion; Lion Shrine in front of Schiavo Hall. Those wanting to get photos should bring their own camera or smartphone.
Free scoops of choice of three Penn State Berkey Creamery ice cream flavors; Junas Garden adjoining Schiavo Hall.
Pickup for pre-ordered half-gallons of Penn State Berkey Creamery ice cream; Housing and Food Services loading dock at Highacres Café. No additional half-gallons will be sold. Open until 4:30 p.m.
Horse-drawn carriage rides; location to be announced.
Higher Grounds Café open and selling a limited menu of items, including specialty Starbucks coffee and Penn State Bakery treats.
Educational exhibits, Paws-Ability assistance dogs, Pocono Greyhound Adoption and Penn State Master Gardeners; campus mall.
Artwork exhibit and raffle with two original paintings of Penn State Hazleton and one of Beaver Stadium; Evelyn Graham Building lobby. Raffle will benefit THON.
Children's mini pumpkin craft with the Hazleton Art League; campus mall. Parents must accompany their children.
Children's T-shirt tie-dying; campus mall. Parents must accompany their children.
Nature walk led by Carl Frankel; meet on campus mall.
Continuing Education exhibits with information on classes and seminars along with health and education stations with students in the practical nursing program; campus mall.
1:30 and 3 p.m.
Performance by Wild Blue Yonder, Penn State Air Force ROTC a capella group, outside steps of the Charles T. Butler Teaching and Learning Center.
2 p.m.
The library, which houses campus historic memorabilia and ephemera in addition to resources, opens for regular hours.
Dedication ceremony of the Ronald L. and Barbara J. Balasco Bella Vista overlook at the lookout area on upper campus.
3-3:45 p.m.
Live cooking show, demonstration by Penn State Hazleton chef with samples of Tuscan chicken with tortellini and warm apple blossoms for participants; Highacres Café Special Events Room.
All activities will be held rain or shine, with most outdoor events moved indoors in inclement weather.
Accessible parking with transportation on golf carts is available in the lot across from the Kostos Building.
For additional information, contact Penn State Hazleton at 570-450-3031.