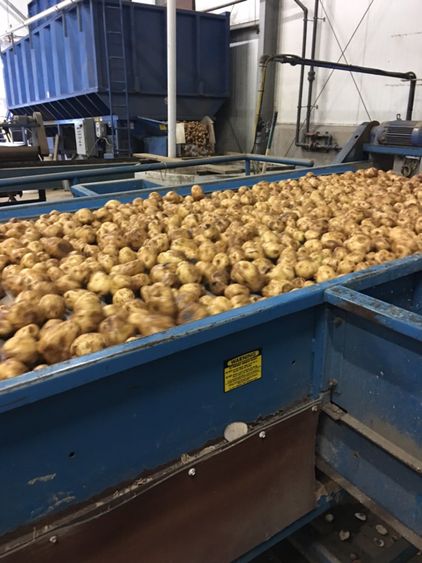 Penn State Housing and Food Services employees at Penn State Hazleton and Penn State Schuylkill recently had an opportunity to learn about family-owned businesses that produce and provide high-quality, nutritious food in a sustainable way.
On August 9, management, technical service, and wage payroll employees participating in a day of training were hosted at Keystone Potato Products and Sterman Masser Farm.
Upon arrival at Keystone Potato Products, the Hazleton and Schuylkill group was greeted by Keith Masser, chairman and CEO of Sterman Masser Inc. and member and past chairman of the Penn State Board of Trustees. During a tour of the facility, employees observed various processes, including dehydration of potatoes, the fresh cut potato line, manufacturing of potato flakes, shipping and receiving, and the well water treatment plant. At Sterman Masser Farm, employees toured the plant to see where the farm's 1,000 acres of potatoes are processed and packaged for retail sales.
"We are so appreciative of Keith and his team for hosting us and giving us a tour of their facility," says Jonathan Kukta, director Penn State Housing and Food Services Hazleton and Schuylkill campuses. "The company's values of safety and concern for employees and customers were evident. Living in Schuylkill County, I see firsthand how this business strengthens and supports our community. It gave me a lot of pride to be able to bring my team here and see what this company does."
"We always appreciate an opportunity to share aspects of agriculture and food processing with local institutions of higher learning," Masser adds.
The August event wasn't the first time Kukta's staff had an opportunity to interact with Board of Trustees members. In July 2014, Penn State Schuylkill's Housing and Food Services team provided catering for the Board of Trustees meeting at the Schuylkill campus. "Many of our Hazleton HFS staff also helped with the food services for this event," Kukta says. "Getting to meet and interact with the trustees was a tremendous experience for our whole team."