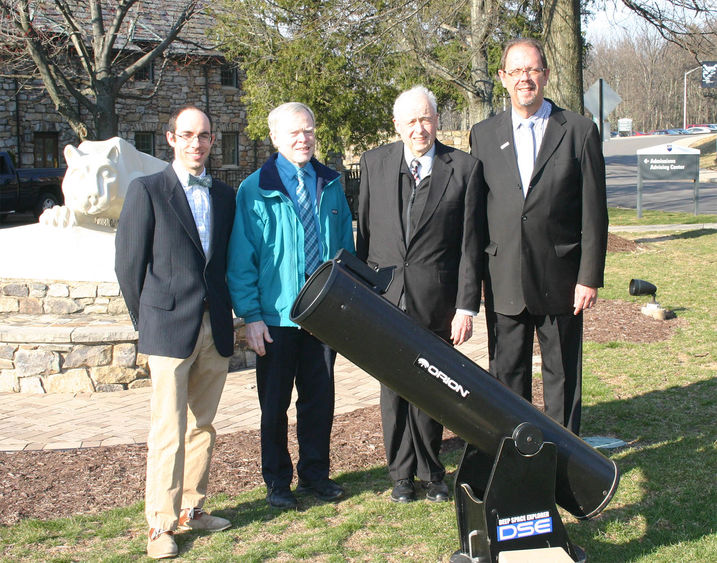 HAZLETON, Pa. — Attorney Thomas K. Noonan, of Mahanoy City, donated an 8-inch Dobsonian telescope to the physics and science departments at Penn State Hazleton. Noonan's gift, which includes an assortment of eyepieces, lenses and instructional materials, is the most recent support for the study of astronomy and astrophysics. Astronomy classes, along with the student astronomy club, have been popular campus offerings, and plans for expansion of the program are currently underway.
"Interest in this area from our students, along with various faculty and staff, has been increasing over recent years and, with growing awareness of the new astronomical discoveries being made lately, it is an exciting time for astronomers," said David Starling, assistant professor of physics. "This new equipment is a great addition to our resources, and we are very grateful to Mr. Noonan for donating it to us."
David Miller, professor emeritus of physics, pointed out some of the most exciting new discoveries that have come from recent space missions, including NASA's New Horizons, Cassini, Mars Orbiter and the Kepler's New Universe mission, as well as some of the older missions that continue to generate new discoveries, most notably the Hubble Space Telescope and Galileo spacecraft.
Noonan said, "The study of the cosmos has brought me great joy and fascination over the years and is something I wanted to share with young people at the Hazleton campus."
"We have a long-term strategy for the study of astronomy at Penn State Hazleton," Chancellor Gary Lawler said. "One day soon we hope to have a fully equipped astronomical observatory that will be a great benefit not only to our students, but to the Greater Hazleton community."