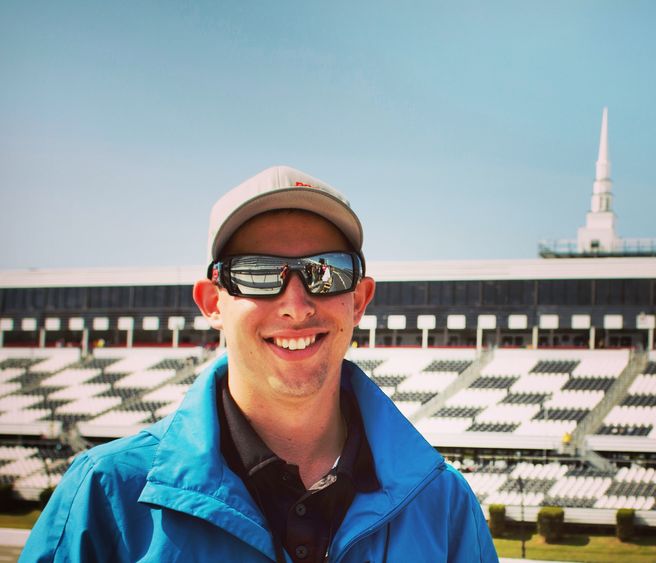 HAZLETON, Pa. — Since he grew up attending races every summer, working at the Pocono Raceway was a natural step for JJ LaRose, a 2015 graduate of Penn State Hazleton.
LaRose, who earned a bachelor of science degree in business with a concentration in marketing and management, has been hired as the manager of marketing and promotions at Pocono Raceway, a newly created position with the company. Hundreds of thousands of people attend the two major NASCAR races at Pocono each year, along with other events held at the racetrack.
His employment with the raceway began with an internship in the marketing department the summer before he graduated. He worked on internship applications with Penn State Hazleton Business Program Coordinator Paul McDermott, who encouraged him to pursue the opportunity at Pocono.
"While I was applying for internships, he opened my eyes to different options and was always a great help. And after my internship, he told me that employment there was something I should try to pursue further. That was really the driving force in my returning to Pocono," LaRose said.
Knowing he always wanted to be a Penn State graduate, LaRose had chosen to attend Penn State Hazleton's four-year business program based on the recommendation of friends who had earned that degree.
"It made things easier for me being close to home, and it was great to get the one-on-one interaction with many of the faculty at Penn State Hazleton that I wouldn't have had at a bigger school," he said. "Mr. McDermott was a great help to me with whatever I needed, in class or in my internship application."
The interaction that develops between students and instructors is an integral part of the Penn State Hazleton experience. McDermott described LaRose as a conscientious student who often managed group projects to ensure everything came together.
"When we discussed the possibility of an internship, I could tell this was something he really wanted to do. His background with being a race fan just energized him, and he was passionate about it," he said.
McDermott said he was confident LaRose would do well in his position, citing his passion for the sport and his desire to succeed. "He had a great experience during his internship, which is how the management got to know him and his work. He made it happen because of what he picked up in his studies here and how well he did in his classes and internship," he said.
Trips to the track were a summer staple for LaRose and his family. "I've been going to races at Pocono from the time I was very young. Sitting in the stands or in the infield, I've seen it for more than 15 years. That made for a nice transition into working here," he said.
He noted that Pocono is one of the only family-owned tracks left in the sport, which adds to his enjoyment of his job.
"While I have loved this sport for years, I've now found I love the people involved with it and the company itself, too. In this family-run, family-friendly atmosphere, you get to know everybody pretty well outside and inside of work," he said.
As an intern, LaRose worked with the senior director of corporate partnerships on marketing efforts such as promotions on-site and off-site, including setting up the fan fair area, which involves interacting with younger fans, many of them for the first time. He returned to work there the summer after graduation, overseeing "Team Tricky," a new marketing campaign designed to increase the track's presence locally and regionally. As part of that campaign, he attended local events such as the Downtown Hazleton Car Cruise, Valley Scoops and More car show nights and the Conyngham Borough Park Program, alongside the track's mascot, Tricky.
Chief Marketing Officer Ben May said LaRose was hired as the marketing and promotions manager at the beginning of the year because of his contributions during his internship.
"JJ's work ethic, timeliness, flexibility and attitude were valued in the highest regard during his internship, which led to full-time employment at Pocono Raceway," he said. "JJ continues to display valuable talent and focused determination in helping us execute our NASCAR and INDYCAR events. As the leader of Team Tricky, our marketing and promotions street team, he puts our brand and mission on the road and continues to promote Pocono brand awareness all the while delivering a memorable and exciting experience to our customers and guests. We are proud to have JJ on the Pocono team," he said.
In his full-time role, LaRose is responsible for interacting with current fans and reaching new fans. He oversees the area marketing program, which includes distributing promotional posters and items to hundreds of businesses throughout the eastern part of the state. He also represents the racetrack at a variety of trade shows and promotional events.
For the past two years, he has helped with the charity poker tournament the track holds each year in conjunction with the NASCAR Foundation. During this event, fans join NASCAR personalities to play poker while raising funds that support charitable causes with an emphasis placed on initiatives that impact the ability of children to live, learn and play.
LaRose has enjoyed the opportunity to meet a variety of people, from longtime fans who live nearby to NASCAR drivers and leaders of many companies and businesses.
"It's great getting to meet people in the sport that you have heard of for years on TV, radio or social media. You really get a feel for who they are in real life," he said.
The first large-scale promotion in which he was involved was the annual softball game that pits Pocono Raceway against Dover International Speedway. The Team Dover vs. Team Pocono Celebrity Softball Game included appearances by NASCAR drivers Dale Earnhardt Jr. and Joey Logano, members of national and local motorsports media and other local media personalities. LaRose attended the event's press conference, which included media from major markets, and interacted with drivers and well-known media personalities.
Other favorite moments of his job include selecting random fans to give them a VIP experience at Pocono, which includes a visit to the pit and meeting drivers, as well as helping coordinate weddings at the track.
"We've had five weddings here since I started," LaRose said. "We allow them to use victory lane at the end of the day since it's a place that means a lot to them. Last year a couple got engaged in the grandstand and this year, they are coming back to get married in victory lane. They have had many family and memorable moments at the track. It's really great to see two, three or even four generations keep coming back because the track means something to them."