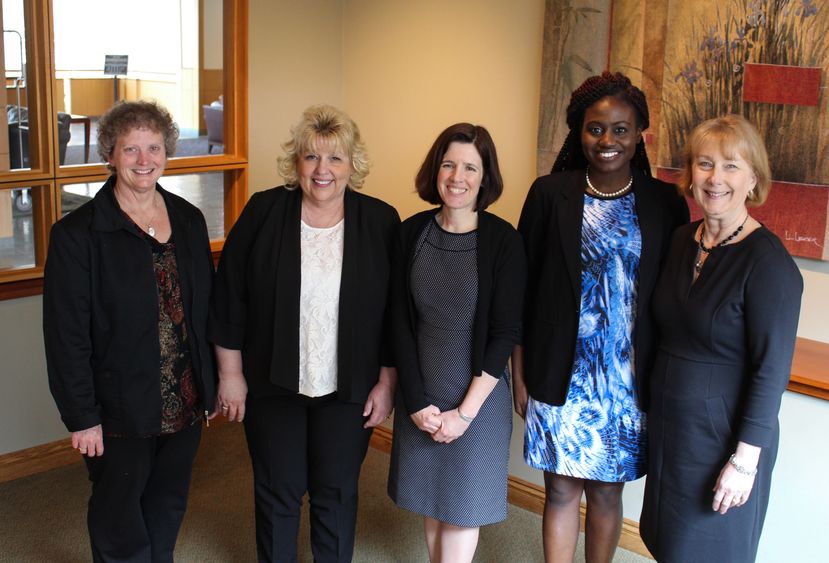 HAZLETON, Pa. — Elizabeth Wright, director of academic affairs at Penn State Hazleton, has been named a recipient of the Penn State Commission for Women 2016 Achieving Women Award in the administrator category. The awards ceremony was held April 8 at The Penn Stater Hotel and Conference Center at University Park.
The Achieving Women Award recognizes seven Penn State women who have shown notable leadership and accomplishment in their fields, and who have gone beyond the requirements of employment duties and responsibilities in their support of the University's diversity efforts, promotion of equal opportunity, or contribution to human causes and public service activities. These awards are presented to current employees and students of Penn State from each of the following categories: faculty, staff exempt, staff nonexempt, administrator, technical service, and undergraduate and graduate students (including postdoctoral fellows and scholars).
"This is a prestigious honor for Liz and well deserved," said Penn State Hazleton Chancellor Gary Lawler. "She is known for her unwavering support of student growth and development at our campus and for her solid leadership among faculty and staff."
Wright began her 16-year career at Penn State Hazleton as assistant professor of English and advanced to the tenured position of associate professor of English before moving to her current role as campus director of academic affairs. She is one of the youngest women to advance to this position at Penn State.
"I am incredibly honored to receive an award from the Commission for Women, as I have benefited from their many initiatives, including those related to faculty mentorship, maternity and child care, and work-life balance," Wright said. "Many inspiring women have previously earned this award and I am grateful to be selected to join their ranks."
Her nominators wrote: "As a professor, Liz has been highly respected by students over the years, seeking out any and all opportunities for our campus students to experience the best that the university as a whole has to offer."
In her leadership role as director of academic affairs, Wright has helped steer the campus by providing leadership, advocating for students and faculty and planning for a major building renovation that is now underway. In planning for the renovation, she has continually met with faculty for input on classrooms, office and collaborative spaces to be certain the building meets the needs of the campus' future student population, along with faculty concerns and needs in and out of the classroom. Wright has proposed and overseen the addition of new four-year degree programs while continuing to work on articulation agreements with local community colleges.
Wright is known as a supporter of the campus honors program and research opportunities for faculty and undergraduate students. Additionally, she has presented multiple times at the Western American Literature Association's annual conference, contributing to publications, and continuing her own research. During the 2015-16 program year, she was one of only five university participants chosen for the Committee on Institutional Cooperation's annual program of leadership development opportunities for department executive officers.