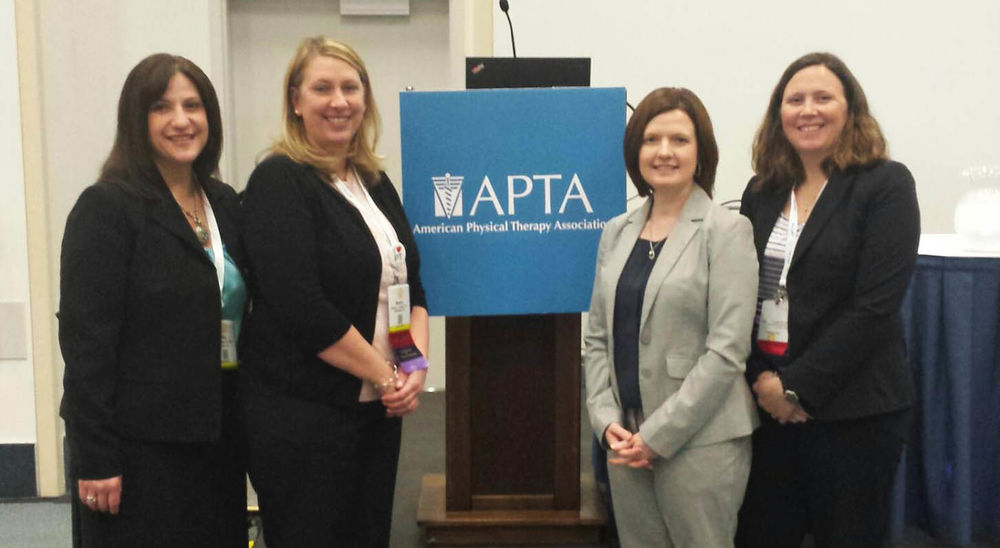 HAZLETON, Pa. — Four Penn State physical therapist assistant faculty members, including two from Penn State Hazleton, presented at a national physical therapy conference held in Anaheim, California.
The Combined Sections Meeting 2016, sponsored by the American Physical Therapy Association, brought together more than 11,000 physical therapy professionals from around the nation.
Gina Tarud and Beverly Labosky, from Penn State Hazleton; Jennifer Jewell, from Penn State Shenango; and Pamela Pologruto, from Penn State Fayette, gave a presentation on "Transforming the Role of the PTA to Meet the Vision of the Physical Therapy Profession," an educational session that included their national research that was completed regarding the role of the physical therapist assistant in the current health care environment.
Tarud, an instructor in the physical therapist assistant program at Penn State Hazleton, said, "Being a health care professional, as well as an educator, I seek the highest standards of care and teaching. This process involves collaboration within our discipline, other healthcare providers, consumers and students alike. This experience was enlightening and beneficial beyond my expectations. It allowed collaboration, education and team building to occur. The conference fostered discussion amongst my colleagues for a better future for our profession. As an educator, I believe that lifelong learning was modeled and promoted professional involvement to my students as they prepare to enter the field of physical therapy."
During their presentation, the group discussed the historic and current role of the PTA, the overall scope of the PTA practice and specific challenges facing the field. They also shared information about future knowledge requirements of the occupation and possibilities for career and skill advancement opportunities to meet societal needs in a rapidly changing health care environment.
Labosky, academic coordinator of clinical education of the physical therapist assistant program at Penn State Hazleton, said, "As a physical therapist assistant, instructor and advocate for the role of the PTA, this presentation was very personal for me. Having the opportunity to provide current career advancement opportunities for the PTA as well as identifying the next step for the PTA was an important issue to recognize. Connecting with other physical therapy professionals who shared the same passion for the PTA and the PT profession was a very rewarding experience."