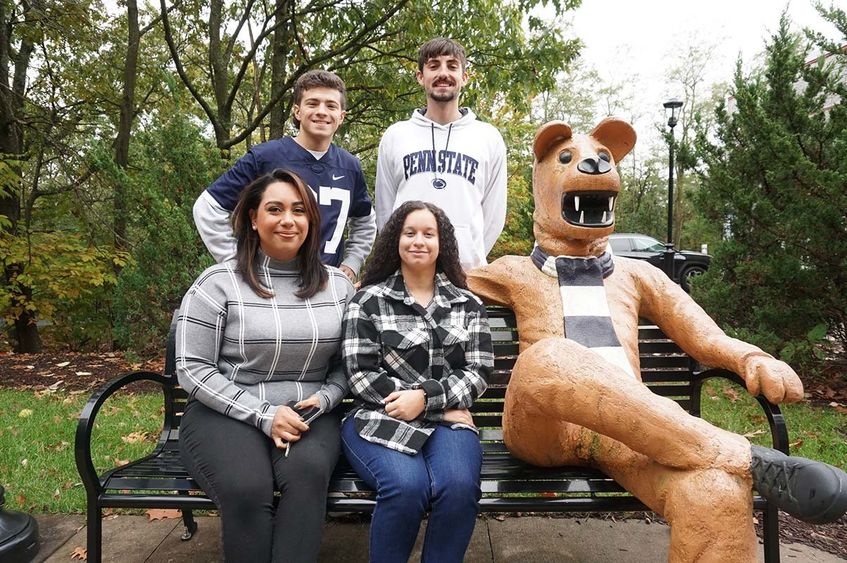 HAZLETON, Pa. — Penn State Hazleton new student orientation (NSO) leaders Alberiluz Alcantara, Nicholas Pajovich, Richard Ray and Jessica Tineo have been named students of the month for September.  
As student leaders for NSO programming, the group helps familiarize first-year students with campus and helpful resources. The group also participates in other events geared towards incoming students.  
"They represent the class and character of our student body and establish a standard for our incoming students," the group's nominator wrote.  
Director of Academic Services and Retention Karen Sofranko and Student Advocacy Specialist Karen Beruck, who work closely with the orientation leaders, said the group's efforts so far this academic year have been invaluable to the Advising and Career Center and campus as a whole. 
"Nicky, Ricky, Jessica and Alberiluz are excellent student leaders with great communication and interpersonal skills," they said. "They helped first-year students with campus resource information, foster a stronger sense of belonging, and a commitment to student success. They continue to be excited this semester to have the opportunity to inspire, motivate, and assist students to provide a rewarding and supportive experience at Penn State Hazleton." 
Alcantara, a fourth-year student majoring in computer science, said she was grateful to be able to introduce prospective students to the campus. 
"Penn State Hazleton has so much to offer," she said. "I wanted to be able to share that with incoming students so they can get the most out of their experiences here." 
Pajovich is a second-year student from Berwick who plans on majoring in engineering. He became an orientation leader to ensure students had the same experiences and support he had, he said. 
"It's an honor to be recognized, but I'm very thankful to even be helping these students out," he said. "Helping others is something that I hold dear to myself."  
Ray, a second-year mechanical engineering major from Weatherly, said he was humbled to receive the award.  
"I'm very appreciative of my family and friends who continually helped me through my time at Penn State Hazleton," he said. "I'm also appreciative of all the staff and faculty who have aided me with wisdom and advice to guide me towards my goals. Without them I could not do what I do."  
A criminal justice major from Hazleton, Tineo is in her final year at Penn State Hazleton and plans to graduate this fall. She said since enrolling at Penn State Hazleton as an adult learner, she found the support system she needed to earn the degree she always wanted.  
"I've been trying to be more involved on campus now that my time there is coming to an end, and I want to feel like I am making an impact," she said. "In becoming more involved on campus, I've gotten to know faculty and students better than just familiar faces I see in the hallway, and it feels good to know I have friends on campus." 
Know a deserving student? Nominate them for the Student of the Month award.