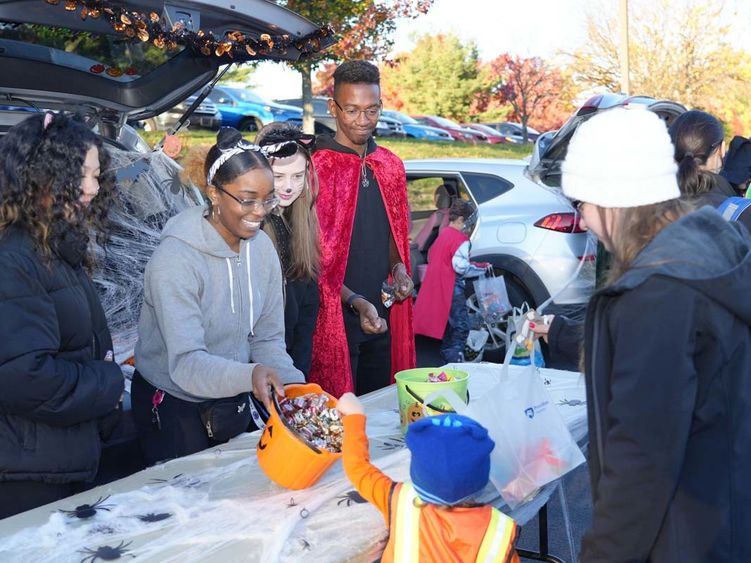 HAZLETON, Pa. — Community members are invited to put on their costumes and come celebrate Halloween at Penn State Hazleton's Trunk-or-Treat event from 5 to 6:30 p.m. on Tuesday, Oct. 24.
The free, family-friendly gathering will be held in Parking Lot F at Penn State Hazleton, located 76 University Drive in Hazleton. Attendees should follow signs posted at the entrance to campus or visit the interactive online campus map for directions to Lot F.
Pre-wrapped Halloween candy will be handed out by student clubs and organizations and members of the faculty and staff. Candy bags will be provided. All ages are welcome, but children must be accompanied by a parent or guardian.
"After the tremendous turnout at last year's Trunk-or-Treat, Penn State Hazleton is once again excited for another opportunity to welcome our community to campus for a fun, family-friendly evening," Chancellor and Chief Academic Officer Elizabeth J. Wright said.
The event is sponsored and organized by the Penn State Hazleton Lion Ambassadors, a student-led organization that promotes Penn State and its interests and goals among current and future students, alumni and friends.
The organization said it was important to them to host an event that brings together the campus and members of the community.
"Penn State Hazleton values its relationship with the surrounding communities and to be able to connect in person here on campus is an opportunity we are really excited about," said Sabrina Krupko, Penn State Hazleton associate director of admissions and adviser to the Lion Ambassadors.
"The Lion Ambassadors were overjoyed at the community response at last year's event and are looking forward to providing another fun, safe environment for the community to celebrate Halloween with their local Penn State campus," added Lion Ambassadors President Matt Janson.
At this year's event, donations will be accepted for Penn State Hazleton Benefitting THON. The organization holds events and raises money throughout the year for Penn State THON, the largest student-run philanthropy in the world, which supports children who are battling cancer and their families. The fundraising effort culminates each February during THON Weekend, where select students participate in a 46-hour no-sitting, no-sleeping dance marathon.  
For questions or more information, contact Krupko at [email protected] or 570-450-3181.