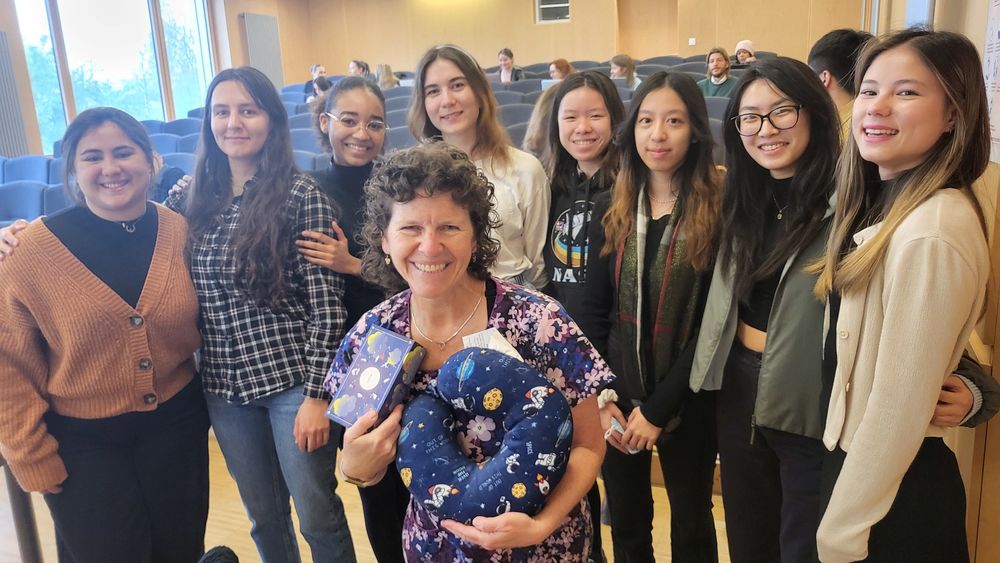 HAZLETON, Pa. — With three Fulbright Program awards to her name, Penn State Hazleton Associate Professor of Business Sherry Robinson is no stranger to sharing her expertise with students at colleges and universities around the world.
In addition to past Fulbright Scholar Awards that led to experiences in Norway and Iceland, Robinson spent two weeks in April teaching students at University of Paris Nanterre in France through a 2022-23 Fulbright Specialist Award.
While Fulbright Scholar Awards can last several months, Fulbright Specialist Awards are two-to-six weeks in length, allowing the awardee to avoid leaving their position for an extended period while giving the host institution an experienced partner on a short-term basis.
Robinson worked with students on business, supply chain and entrepreneurial concepts, ultimately holding a "Shark Tank"-style pitch competition at the conclusion of her time in Paris. Robinson said students were eager to learn and quick to help one another.
"All the students got along so well with each other," Robinson said. "I would present different options to them, and they all would come together to make a decision as a group. Everyone had a say."
Approximately 400 Fulbright Specialist Awards are issued each year. Recipients are selected "on the basis of academic and professional achievement, demonstrated leadership in their field, and the potential to foster long-term cooperation between institutions in the U.S. and abroad," according to the Fulbright Program.
"To receive two awards from the Fulbright Program is impressive. To earn three is exceptional," Chancellor and Chief Academic Officer Elizabeth J. Wright said. "We are so proud of Sherry for being continually recognized for her knowledge and dedication to teaching. We look forward to our students benefitting from the perspective and cultural knowledge she gained during yet another fruitful global experience."
Robinson, who also coordinates the business program at Penn State Hazleton, said she was honored to receive the award and looks forward to upholding its purpose.
"It's a wonderful program that is all about making strong connections," Robinson said. "How can I help them and how can they help me? It's a collaboration and an exchange that makes it much more relationship-oriented and long term."
Long-term relationships Robinson forged during previous Fulbright Program experiences continue to pay off.
Using connections she made in Norway during her first Fulbright Scholar Award in 2008-09, Robinson and a team from Penn State Global and its Experiential Digital Global Engagement (EDGE) program recently participated in the American Association of Colleges and Universities' (AAC&U) Norwegian Panorama Virtual Exchange/Collaborative Online International Learning (VE/COIL) Partnerships Initiative. Virtual exchange (VE) and collaborative online international learning (COIL) provide affordable opportunities to gain global competencies by linking classrooms around the world through co-taught, multicultural, and blended online course work, according to the AAC&U.
The group visited Bergen, Norway from June 19-21 to develop global VE/COIL opportunities, including online synchronous collaboration with students from the University of South-Eastern Norway and Robinson's international business class at Penn State Hazleton beginning in fall 2023.
"We've got ice breakers and joint activities for students to get to know each other because these students getting to know each other is vital to working together effectively," Robinson said. "The students will then collaborate on a final project."
Robinson routinely incorporates what she learns during her Fulbright Program experiences into her teaching at Penn State Hazleton, particularly in her international business course. Conversely, she adapts activities she developed at Penn State Hazleton while working with students abroad.
"It just gives me more examples of ways things are being done globally in the industry that I can share with students here," she said.
Robinson received her first Fulbright Scholar Award in 2008 and spent several months in Oslo, Norway. The connections she made eventually brought Norwegian students to Penn State Hazleton to study business with American students. She first visited the country in 2004 as part of Rotary International's Group Study Exchange. She began studying Norwegian, returning to the country several times and becoming fluent in the language.
Robinson then spent several months at Bifrost University in Iceland through another Fulbright Scholar Award in 2016. There, she co-taught an international business class to 24 students from 12 countries. Her semester in Iceland concluded with a formal presentation to a group that included members of the Fulbright board of directors and representatives from the U.S. Embassy. 
As a whole, Penn State continues to enjoy success producing Fulbright Scholars. The University was recently recognized as the top U.S. producer of faculty Fulbright Scholars for the 2022-23 academic year by the U.S. Department of State's Bureau of Educational and Cultural Affairs, the second time in the last four years that Penn State has been the No. 1 producer of Fulbright Scholars. Seventeen faculty were offered awards for 2022-23, the most Penn State has ever received in an awards cycle.