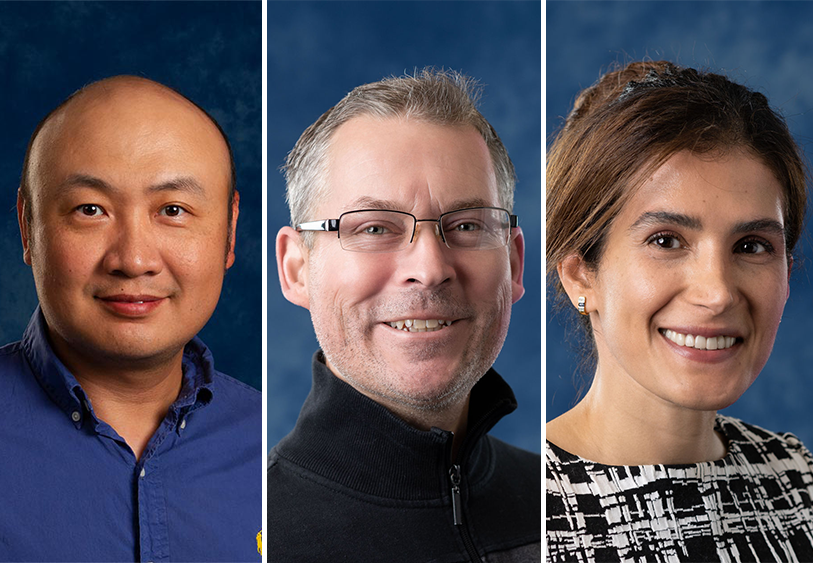 HAZLETON, Pa. — Three tenure-line faculty members at Penn State Hazleton have received promotions in their academic ranks.
Zugang "Leo" Liu was promoted to professor of business, Daniel Mansson was promoted to professor of communication arts and sciences and Nargess Tahmasbi was promoted to associate professor of information sciences and technology. 
"I am thrilled to congratulate Leo, Daniel and Nargess on their well-deserved promotions," Chancellor and Chief Academic Officer Elizabeth J. Wright said. "These career milestones not only recognize the dedication and remarkable achievements of these individuals, but also highlight Penn State Hazleton's commitment to fostering excellence in education, research, and student engagement."
Zugang 'Leo' Liu 
A member of the campus community since 2008, Liu has been integral in growing the project and supply chain management bachelor's degree program at Penn State Hazleton. Of particular value locally, the degree was developed to meet the needs of employers in northeastern Pennsylvania and beyond. As program coordinator, Liu oversees a consortium consisting of Penn State campuses throughout the state.
"To see how far the program has come and all the students who have graduated, it has been well worth all the effort," Liu said.
Liu's teaching portfolio is extensive, encompassing courses like Introduction to Management Science, Introduction to Operations Management, Corporation Finance, Introduction to Business Information Systems, Contemporary Issues in Management, Supply Chain Management, Operations Planning and Control, and Logistics System Analysis and Design.
As a researcher, Liu has made significant contributions to the field of business administration through his extensive research exploring a wide range of topics, including supply chain management, financial hedging and sustainability and risk management, making him a respected voice in his field. 
His research has been published in renowned journals such as the Journal of Cleaner Production, Journal of Investing, Operations and Supply Chain Management and European Journal of Operational Research, among others.
Throughout his career, he has received numerous accolades and honors, including being nominated for Penn State's George W. Atherton Award for Excellence in Teaching in 2018. His dedication to scholarship and teaching excellence earned him the Faculty Scholar Award at Penn State Hazleton in 2014. Furthermore, his research paper, "Style Diversification Across Time Horizon," received the Best Paper Award at the 5th Global Business and Social Science Research Conference held by the World Business Institute in Beijing, China, in 2012.
"Being promoted is a great honor, but the most rewarding experience has been seeing my students grow, learn, graduate and get jobs," Liu said.
Liu holds a doctorate in management with a concentration in management science, a master's in engineering transportation and a minor in computer science from the University of Massachusetts Amherst. He received a bachelor's degree in civil engineering from Tsinghua University in Beijing, China. He is also professionally certified in Production and Inventory Management (CPIM).
Daniel Mansson 
Mansson's passion for research has helped him amass dozens of peer-reviewed publications, numerous appearances at professional presentations around the world and the creation of several measurements used in the study of relationships and their impact.
Moreover, the positive relationships he had with his advisers as a student researcher helped shape the way he works with undergraduate student researchers at Penn State Hazleton. He recalled one specific instance as an undergraduate student at the University of North Carolina Wilmington where a professor agreed to work with him despite Mansson not being one of his current students.
"That made me realize what an impact a faculty member can have on a student," Mansson said. "It really motivated me. I had such a great experience that I wanted to provide a similar impact to future students."
Mansson has taken that rapport a step further in recent semesters. He makes it a point to play volleyball with students in lieu of traditional office hours. While he still meets with students who request the time, he found the laid-back environment of the gymnasium often leads to a better dialogue than in his office, he said.
"I did more informal advising there than I did in any official capacity," he said.
After all, Mansson's research focus is relationships; he has studied both interpersonal communication and family communication. One frequently cited work examined the relationship between grandparents and their grandchildren and how affection and emotional support can positively impact the lives of those grandchildren.
At Penn State Hazleton, he has taught courses in Business Communication, Communication Research Methods, Public Speaking, Elementary Statistics, Interpersonal Communication and Communication and Aging.
He began his career at Penn State Hazleton in 2010 as an instructor before being promoted to assistant professor in 2011. He was again promoted in 2016 to associate professor. He also held various teaching roles prior to Penn State Hazleton at West Virginia University, Northcentral University, East Tennessee State University, Northeast State Technical Community College and Radford University.
A native of Sweden, Mansson received his doctorate in communication studies from West Virginia University, his master's in corporate and professional communication from Radford University, and his bachelor's degree in communication studies from the University of North Carolina Wilmington.
Nargess Tahmasbi 
For Tahmasbi, her promotion represents all the hard work she has put in throughout a career that began as a young woman growing up in Iran, she said. 
"This is a milestone everybody in our profession tries to reach, so it's a big personal accomplishment," she said. "It's been a very rewarding experience."
Tahmasbi's professional journey is marked by teaching and research experiences at numerous institutions. She began her academic career in 2008 as a faculty member at Mazandaran University of Science and Technology in Iran before joining the College of Information Science and Technology at the University of Nebraska Omaha in 2011 as a graduate student instructor and research assistant. She started at Penn State Hazleton in 2017.
At Penn State Hazleton, Tahmasbi has taught courses in Advanced Enterprise Integration, Programming and Computation, Human-Centered Design and Networking and Telecommunications, as well as introductory courses in Programming Techniques and Computer Programming.
In addition to her teaching responsibilities, Tahmasbi has been actively involved in research. Her research interests encompass a wide range of topics, including non-fungible tokens, cyberbullying, crowdsourcing, social computing, and decision-making processes. Her scholarly work has been published in reputable journals and presented at conferences.
A paper she co-published with Gert Jan de Vreede of the University of Nebraska, "Study of Emergent Norm Formation in Online Crowds," won the Best Paper award from the Association for Information Systems at its Americas Conference on Information Systems in 2015.
Tahmasbi chairs the campus Undergraduate Research Committee and is one of the founding members of STEM for All, a committee of female faculty and staff members who promote diversity in STEM by sharing their own experiences and challenges in the field. Tahmasbi and the committee have brought industry professionals to campus as speakers, organized career chats and held other interactive events where students can ask questions and receive guidance.
"Students told me they always appreciated what they learned from those events and how it impacted their careers in the long term," she said.
An active contributor to conferences around the world, Tahmasbi has held numerous international committee roles including chairing TREO (Technology, Research, Education and Opinion) Talks at the International Conference on Information Systems (ICIS) in Denmark in 2022, co-chairing a virtual Association for Information Systems Affiliated Conference on information systems in July, and chairing a mini-track on generative artificial intelligence (AI) in information research and education at the Hawaiian International Conference on System Sciences (HICSS) to be held in Hawaii in January.
Tahmasbi holds a doctorate in information technology from the University of Nebraska Omaha, a master's in information technology from Tarbiat Modares University in Iran, and a bachelor's degree in computer engineering (software) from Amirkabir University of Technology in Iran.