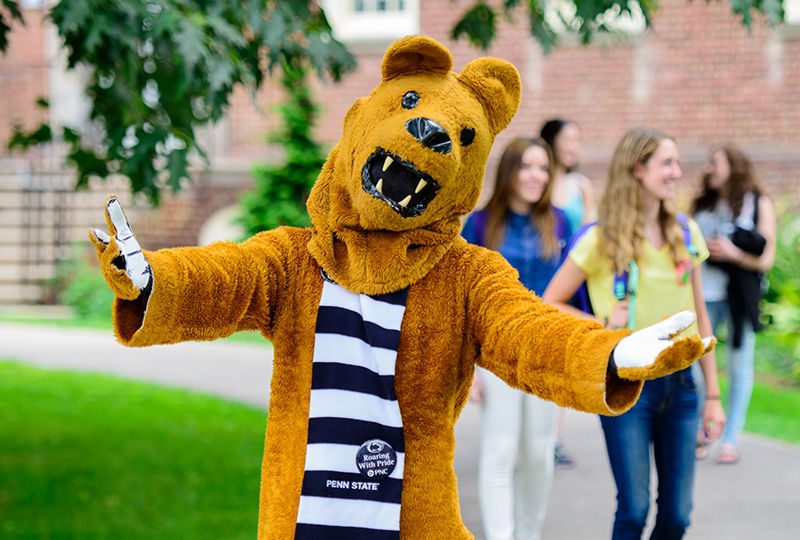 As part of our regular "We Are!" feature, we recognize 12 Penn Staters who have gone above and beyond what's asked of them in their work at the University. 
This week, on behalf of the entire Penn State community, we'd like to say thank you to: 
Shawnee Burns, academic adviser for Penn State World Campus, whose nominator wrote, "Shawnee is a great academic adviser who advocates for World Campus students, provides compassion and empathy to those she assists, and understands the importance of providing quality service to adult learners who have a busy schedule with little time to plan." 
Kristen Carr, associate director of student organizations in the Leadership and Involvement Office in Student Affairs, whose nominator wrote, "Kristen sets a wonderful example of how to do a fantastic job while also making every student and employee at Penn State feel valuable. Kristen is a wonderful teacher, mentor and co-worker to everyone that she is with and always is willing to do all she can to make everyone's day better!" 
Julie Fitzgerald, co-curricular program coordinator at Penn State World Campus, whose nominator wrote, "Julie is an outstanding individual who sees no limits in what students can do when given the right tools to succeed. Her work with student engagement for online education truly helps give online learners that feeling of belonging and that true college experience." 
Crystal Foster, administrative support assistant for student leadership and involvement in Penn State Student Affairs, whose nominator wrote, "Crystal is constantly going above and beyond to help students. With a massive influx of events this semester, she has handled everything with passion, grace and diligence. She is also always taking feedback and looking at how to improve processes! Thank you for all you do, Crystal!" 
Randy Fulton, director of business services for Penn State Law, whose nominator wrote, "Randy is the quiet hero of our law school, making sure our ship stays afloat and on course every day while working hard in the background. He makes us look great for events and programs because of his ability to anticipate the needs of others, and because he has pride in a job well done." 
Eileen Haase, director of Counseling and Psychological Services (CAPS) and director of Student Disability Resources (SDR) at Penn State Harrisburg, who received multiple nominations. One nominator wrote, "A shoutout to Eileen for creating a brave space for students to seek counseling and assistance with representation in staff!" The other nominator wrote, "Dr. Haase puts in countless hours to provide CAPS and SDR units with resources to serve students in a better capacity. The level of compassion, grit and advocacy she exudes daily is for the betterment of students at Penn State Harrisburg." 
Megan Hurley-Knight, academic adviser at Penn State Hazleton, whose nominator wrote, "Megan is tremendously caring and inspirational and has made significant contributions towards the education and welfare of students at the Hazleton campus. She has a talent for working with students and a commitment to helping students succeed with their dream of earning a college degree." 
Christa Morris, Reed Union Building Information desk manager at Penn State Behrend, whose nominator wrote, "Christa is always working hard to make sure our Behrend students are having the best experience. She is constantly helping out other staff and students during the busy times of the year. We are thankful for her dedication to our office and all the amazing knowledge she has as an alumna of Behrend!" 
Anna Morrison, multimedia specialist in the Enrollment Management Office, who was nominated multiple times. One nominator wrote, "As the person who coordinates the online bulletin, Anna is regularly on the front lines of last-minute changes or concerns. She is the go-to expert for all things related to the curriculum management tool and handles all questions with grace and good humor. We are so appreciative of her talents." The other nominator wrote, "Anna's title is multimedia specialist, but it should be 'bulletin whisperer,' 'update wrangler,' 'knower of all things' and 'most patient woman in the world.' Her calm guidance, as always, makes the very technical Undergraduate Bulletin update process bearable and understandable. She is invaluable!" 
Colleen Racho, registrar at Penn State Hazleton, whose nominator wrote, "Despite the overwhelming amount of work that Colleen has to do, she is consistently helpful and willing to assist students, faculty and staff with questions regarding classes, schedules and enrollment. She is always friendly and happy to help." 
Christine Stohler, administrative support assistant at Penn State Harrisburg, whose nominator wrote, "Christine embodies all the Penn State Values every day and is an outstanding team player who always has a positive attitude.  She stepped up when the office was short staffed and kept the admissions office running smoothly. Thank you, Christine, for all you do. You are truly valued!" 
Jennifer Surrena, proposal and award generalist at Penn State Behrend, whose nominator wrote, "Jennifer Surrena is an amazing manager. She brought a new team together quickly with her enthusiasm and knowledge. She brings out the best in us, and WE ARE extremely fortunate to have her! Our office would not be same without her." 
Thank you to Shawnee, Kristen, Julie, Crystal, Randy, Eileen, Megan, Christa, Anna, Colleen, Christine and Jennifer — and to everyone who helps make Penn State such an incredible community! 
Do you know someone who deserves a shoutout? If you do, consider nominating that person by filling out a short online form.