Two Penn State Hazleton alumni are among the field of twenty-two alumni to be honored for their outstanding professional achievements and given the lifelong title of Alumni Fellow, the highest award given by the Penn State Alumni Association.
The Alumni Fellow recipients who attended the Hazleton campus are Gary Ralph Matyas '78, Olney, Md., and Susan Saint Sing '78, '04g, Stuart, Fla.
Penn State Hazleton Chancellor Gary Lawler said, "The entire campus community congratulates Dr. Matyas and Dr. Saint Sing as they are recognized for their distinguished careers and accomplishments in their fields."
Matyas and Saint Sing will arrive at Penn State Hazleton on Wednesday, October 16 to meet the campus community and address students in classes related to their respective fields. They will then travel to University Park to be honored with all of this year's Alumni Fellows at a dinner at the Penn Stater Conference Center.
Matyas is a researcher at the Walter Reed Army Institute of Research (WRAIR) in Silver Spring, Md., who was selected as the 2012 recipient of the National Institute on Drug Abuse Avant-Garde Award for Medications Development for his work to develop an effective, safe and easily manufactured combination anti-heroin/HIV vaccine that could treat heroin addiction while at the same time prevent HIV infection in those receiving the vaccine. He received $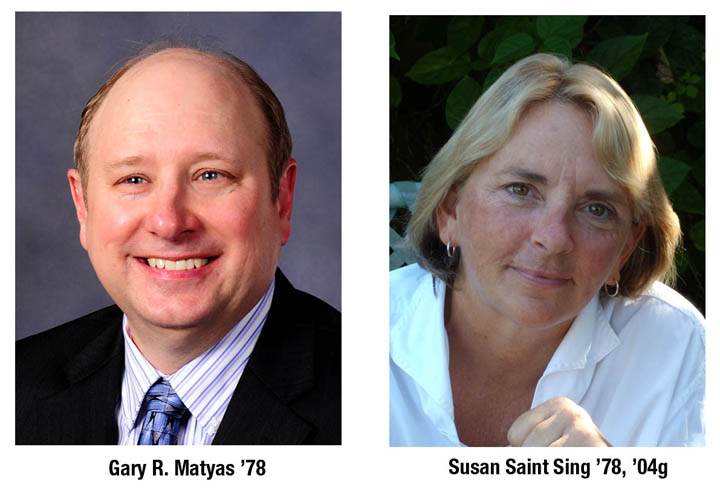 1,000,000 per year for five years to support his research.
Originally from Mountain Grove, Matyas began his studies at Penn State Hazleton before completing his bachelor of science degree in biophysics at University Park. He then earned a doctoral degree in biological sciences focusing on quantical lipids and changes in cancer from Purdue in 1985. He performed post-doctoral studies through 1988 at the National Institute of Health's National Institute of Neurological, Communicative Disorders and Stroke before working at WRAIR where he has worked on vaccines and liposomes for various biological threats.
His wife, Marsha Lakes Matyas, serves as an educational officer with the American Physiological Society. They have one son, Joseph.
Saint Sing is a noted athlete, coach, author and educator. She is head coach at the North Palm Beach Rowing Club.
While on a lacrosse scholarship to Penn State, she fell while doing gymnastics and broke her neck and back. She suffered paralysis and major soft tissue damage, which caused her to attend a pain control center for ten years. During her recovery, she discovered a link between spirituality and sports, an area she has intensely studied, researched and educated others. In November 2009, she was invited to the Vatican where she had an audience with Pope Benedict XVI and spoke to a group about spirituality in sports.
Her vast experience includes serving as program director of the U.S. National Rowing Center, head coach of men's and women's crew teams at Xavier University and Penn State, manager of the United States National Rowing Team, and rowing coach at the United States Naval Academy.
Saint Sing is the author of eight books, with her most recent work "The Eight: One Season in the Tradition of Harvard Crewing" released in March 2010. Her other works include "The Wonder Crew: the Untold Story of a Coach, Navy Rowing, and Olympic Immortality"; "Francis and the San Damiano Cross: Meditations on Spiritual Transformation"; "Spirituality of Sport: Balancing Body and Soul"; "A Retreat with Francis and Clare Assisi: Following Our Pilgrim Hearts"; "Living with Sickness a Struggle Toward Meaning"; "St Francis, Poet of Creation: The Story of the Canticle of Brother Sun"; and "A Pilgrim in Assisi: Searching for Francis Today."
Saint Sing earned her bachelor's degree in physical education and fine arts from Penn State, her master's degree in health and nutrition science and exercise physiology from the University of Cincinnati, and her doctoral degree in kinesiology from Penn State in 2004.
Since the award was established in 1973, more than 700 alumni have been honored with the title of Alumni Fellow, designated a permanent and lifelong title by the Penn State Board of Trustees. This represents one-eighth of 1 percent of all 616,000 living Penn State alumni.
The Alumni Fellow program is administered by the Penn State Alumni Association in cooperation with the University's academic colleges, campuses and the Office of the President. Alumni are nominated by a college or campus as leaders in their professional fields and accept an invitation from the President of the University to return to campus to share their expertise with students, faculty and administrators. Each Alumni Fellow will receive a commemorative award, designed and hand cast by Jeanne Stevens-Sollman '72g, an acclaimed sculptor and medalist, and an Alumni Fellow.