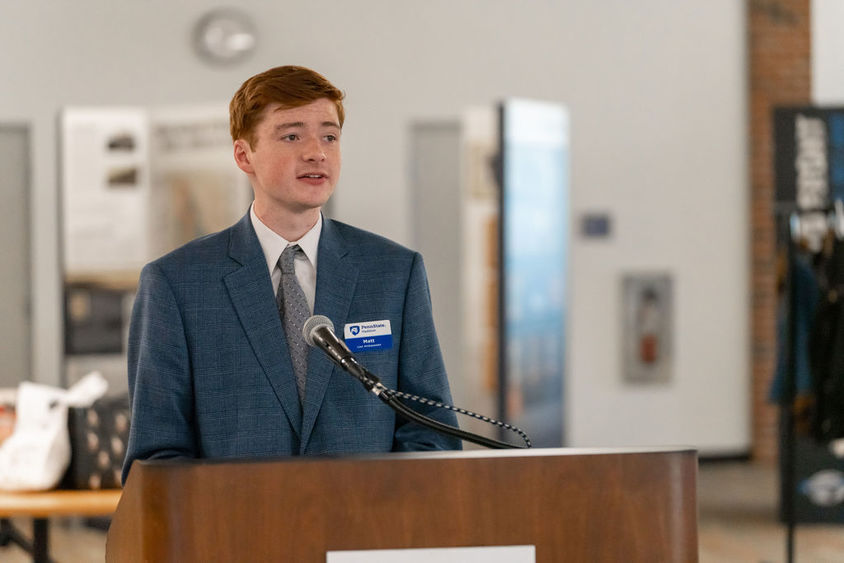 HAZLETON, Pa. — Matt Janson, a second-year student from Bloomsburg majoring in health policy and administration, has been named Student of the Month for January. 
Janson received multiple nominations for the award, with each nominator praising his academic performance in the classroom and his selflessness in helping others outside of the classroom. 
"Working with Matt, I have also had the opportunity to observe that he is a thoughtful, active participant in the classroom who actively listens to presentations and discussions and shares his observations, experiences and expertise to enrich the classroom discussion," one nominator wrote. 
Another nominator commended Janson's leadership and impact as president of the Lion Ambassadors. 
"He leads with enthusiasm and thoughtfulness and connects our campus with the greater Hazleton community," wrote another nominator. "In October, Matt orchestrated the wildly successful Trunk or Treat, which brought community members to campus for a lighthearted and family-friendly event. In December, Matt led the charge in creating holiday cards to bring cheer to area nursing home residents." 
In addition to maintaining a 4.0 grade-point average, Janson works in the healthcare field as an air medical communications specialist/EMT for Geisinger. Despite his professional role, Janson remains committed to career development by participating in voluntary career-related events and one-on-one career counseling, his nominator wrote. 
"Through and through, Matt Janson exemplifies the values of our Penn State community. It is a joy to work with him and I know he will continue to impact our campus and the community as he continues his education," the nominator wrote. 
Janson noted he was honored to receive the award. "I appreciate everything that my friends as well as staff and faculty do to make Penn State Hazleton special," he said.