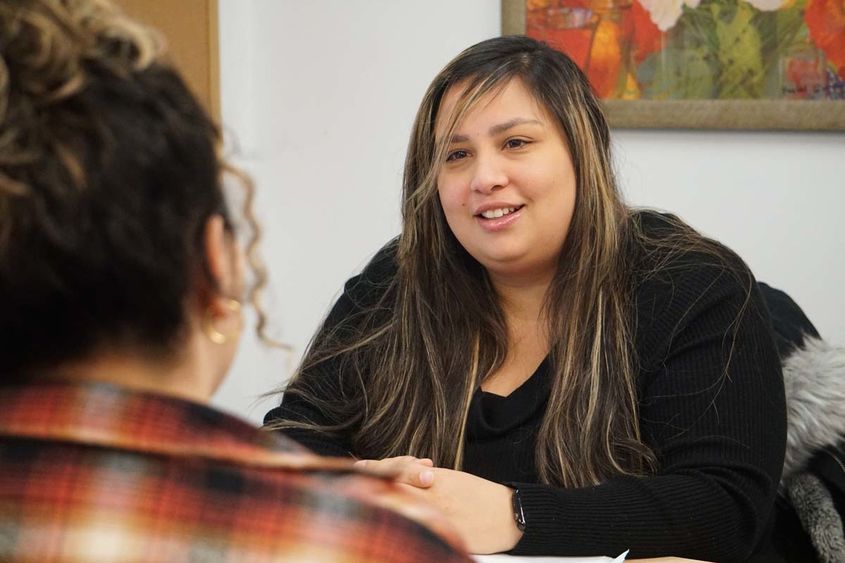 HAZLETON, Pa. — The motivation Jennifer Malaga received from her academic adviser as a student at Penn State Hazleton is encouragement she remembers to this day. Now, as an academic coach in the campus' Student Success Center, she's cherishing the opportunity to pay that support forward to current students. 
Malaga, who attended Penn State Hazleton from 2009-11 before transitioning to the University Park campus as part of the 2+2 Plan, began working in the Student Success Center in November 2022, channeling her own experiences, familiarity with the campus and fluency in Spanish to provide valuable services to students. 
"I love having the one-on-one conversations to get to the bottom of what may be going on so we can find the best way to help them be successful," Malaga said. "It's meant a lot to them just to be able to hear, 'Instead of doing this, try that,' and see it succeed." 
Located in Room 203 in the upper level of the Charles T. Butler Teaching and Learning Resource Center, the Student Success Center offers free academic support to students through one-on-one and group tutoring, help with studying, time management and organization, and other skills key to successful learning. It also provides disability resources like testing accommodations, assistive technology, alternative format texts and other needs. 
Student Success Center Coordinator Tammy Spevak said Malaga has been crucial in helping the Student Success Center carry out its mission. Though Malaga works with all students, she has been particularly helpful to students who are native Spanish-speakers. 
"She connects with our students because she was one of our students," Spevak said. "She knows our campus, she knows all of its resources, plus she understands what it's like to be an emergent multilingual learner navigating higher education." 
Emergent multilingual learner (EML) students work with Malaga to overcome challenges expressing their thoughts in written assignments or other coursework. 
She recalled working with one EML student who spoke English well but struggled to convey his thoughts on written assignments. After working with the student and sharing tips that helped her as a student, she was able to help the student raise his grade level in the class.
"It was so gratifying to see that growth," she said. 
Sticking with it 
Malaga moved to the U.S. from Peru in 2007 when she was 16 years old. After graduating from Hazleton Area High School in 2009, she enrolled at Penn State Hazleton, one of her top college choices. She enrolled in the Division of Undergraduate Studies with the intention of pursuing a degree in the arts. 
When Malaga had to take a semester off in spring 2011 to help care for her younger brother, her academic adviser, Professor of Music and Integrative Arts Tom Smialek, wouldn't let her give up on her goals. 
Smialek, who retired in 2022, encouraged her to continue building her portfolio so that when she did return to her courses, she wouldn't be behind on her progress. Malaga visited with Smialek when her schedule allowed her to visit campus. 
"I'll never forget how he told me to keep going, keep building my portfolio, even though I wasn't even enrolled at the time," Malaga said.  
She transitioned to the University Park campus in fall 2011. She initially wanted to work in art design but decided to switch her focus to photography. That decision inspired her to spend her spring 2014 semester studying abroad at Studio Arts College International in Florence, Italy. She graduated in summer 2014 with a bachelor of arts degree in photography and a minor in Spanish. 
After a career path as a photographer that took her to Florida for several years, she returned to the Hazleton area in 2018. 
In good company 
Around the same time, Malaga's parents began looking into forming their own commercial and residential cleaning company. A coworker encouraged Malaga and her family to visit the Hazleton LaunchBox Supported by Pasco L. Schiavo Esq., Penn State Hazleton's no-cost startup accelerator and co-working space. 
The LaunchBox, located at 13 W. Broad St. in Hazleton, is designed to provide early-stage startup companies with the support and resources needed to build a sustainable business and a viable plan for growth. 
Malaga, who manages Malaga's Cleaning Company, said the LaunchBox provided key resources that helped their business idea become a reality. 
"We were able to meet others who have their own businesses and get advice from them about what worked for them and what didn't," she said. 
In addition to networking, Malaga and her parents learned about finance, legal resources, and business basics. Malaga said the LaunchBox was especially helpful to her parents because it hosted events in Spanish or had someone translating English to Spanish. She credited LaunchBox Entrepreneurship Education Coordinator William Andahazy and Entrepreneurship Facilitator Fermin Diaz for working closely with her family. 
"I'd definitely recommend the Hazleton LaunchBox to anybody in the community who is looking to start a business but doesn't know where to begin," she said. "It's good to know there is a place where you can get the right information and be guided to the right people."