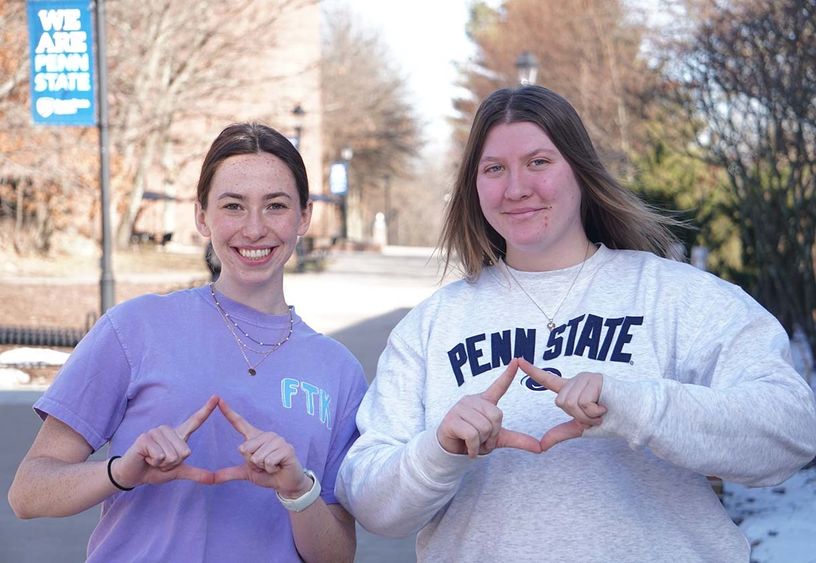 HAZLETON, Pa. — Penn State Hazleton second-year student Ashley James has made a habit of leaping out of airplanes, with nearly 100 jumps on her skydiving resume so far. Fellow second-year student Tori Rabuck is no stranger to high-pressure situations, either, having played in many as a member of the women's softball team.
Both students, however, admit the butterflies associated with representing Penn State Hazleton at THON Weekend 2023 are different, but well worth it because of what's at stake.
"We're excited, we're nervous, but it's also the best feeling knowing that THON is going to make a difference and help kids live as close to a normal childhood as they can," said James, president of Penn State Hazleton Benefitting THON.
James, a biomedical engineering major from Weatherly, and Rabuck, a rehabilitation and human services major from Tower City, will join hundreds of other Penn State students on the floor of the Bryce Jordan Center at the University Park campus when THON kicks off on Feb. 17.
As Penn State Hazleton Benefitting THON'S family relations chair, Rabuck has worked closely with the Blanchard and Coreano families. Four-year-old Remington Blanchard, from Annville in Lebanon County, was diagnosed with neuroblastoma as a toddler but is no longer undergoing treatment. Tiana Coreano of York County was diagnosed in 2012 with Ewing Sarcoma, a rare type of bone cancer. After heart surgery and numerous blood and plasma transfusions, the 31-year-old is now cancer free.
Seeing the positive impact THON has on the families has been "life changing," said Rabuck.
"It gives you a whole new perspective on life," she added.
James said it was a personal connection that drew her to get involved with THON. She lost a 12-year-old cousin to brain cancer, which raised her awareness of pediatric cancer and motivated her to take action.
"Every child should be able to live a normal childhood and have amazing memories. They shouldn't have to remember going to treatments and taking all these tests, and their families shouldn't have to stress because they have to pay hospital bills," she said. "Having that subsided or completely taken away through fundraising helps them de-stress, but it also allows them to value their time with their children."
James and Rabuck both attended THON Weekend 2022 at the encouragement of that year's committee members, and while they didn't get onto the floor of the Bryce Jordan Center to participate, they saw enough to know they wanted to be part of the experience.
They also saw first-hand what it takes to stay on their feet throughout the annual 46-hour dance marathon.
"Dancing a lot, playing games, and the performances ... it all boosts your energy and keeps you going," Rabuck said.
James, Rabuck and the rest of Penn State Hazleton Benefitting THON spend months fundraising, including by hosting a cornhole tournament, games and other activities. During a blood drive through the American Red Cross in October, a $4 donation was made to the Four Diamonds Fund for each presenting donor.
Support James and Rabuck in their effort to help families affected by childhood cancer by donating online.
A livestream of THON Weekend 2023 can be viewed at thon.org/livestream.