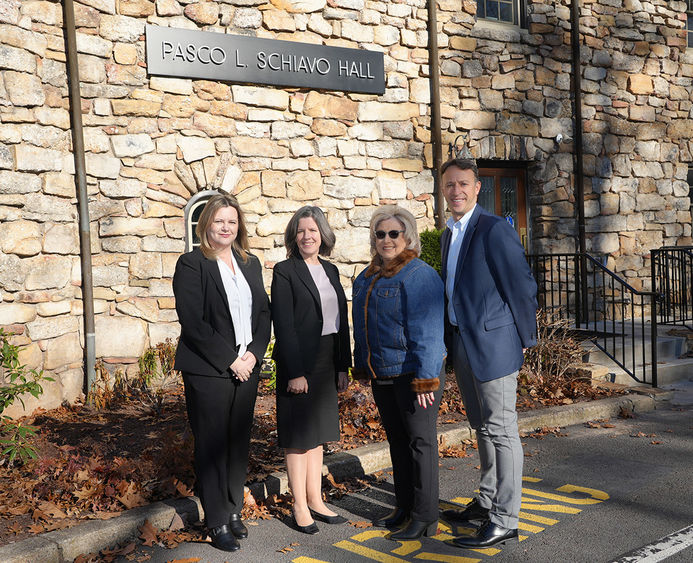 HAZLETON, Pa. — A $550,000 contribution from the estate of late attorney, philanthropist and Penn State Hazleton benefactor Pasco L. Schiavo will extend a scholarship program established in his name through 2028, providing critical financial support for students during their first and second years at the campus. 
The Pasco L. Schiavo Scholars Program was established in 2021 through an initial $105,000 gift. The latest contribution will expand the program by awarding scholarships to incoming, first-year students who are graduates of the Hazleton Area School District, Immanuel Christian School, Weatherly Area High School, MMI Preparatory School and Marian Catholic High School. 
First preference is given to students who demonstrate a financial need, are pursuing a bachelor's degree and/or are enrolled in a major that can be completed at Penn State Hazleton. 
Most notably, students who receive the scholarship in their first year will have it renewed for a second year as long as they remain enrolled full-time at Penn State Hazleton. The program, which has already awarded 35 scholarships during the last two academic years, will continue over the next five years, and significantly increase the total number of students supported. 
"Not only was Pasco a staunch advocate for Penn State Hazleton, but he also worked tirelessly toward the betterment of the Hazleton community," Chancellor Elizabeth J. Wright said. "Through this contribution, his legacy of kindness, generosity and selflessness will have a profound and lasting impact on the lives of Penn State Hazleton students for years to come." 
Director of Enrollment Management and Student Aid Aaron Mattern noted the value of giving students peace of mind as they begin adjusting to college life. 
"The Pasco L. Schiavo Scholars Program allows students to begin their college careers focused on building a path to success instead of worrying about finances," he said. "We're extremely grateful for the program and are excited to continue seeing the positive results it has on students seeking to earn a world-class Penn State education." 
Cierra Hart, a second-year student from Hazleton majoring in rehabilitation and human services, received the scholarship for the 2022-23 academic year not long after finding herself without a job. 
"With the amount of time I put into school, it is very difficult to balance school and work, and this generous scholarship has given me the opportunity to ease into my studies a bit more, rather than anxiously looking for a job to pay tuition," she said. "With this scholarship, I will work towards my future goals and use it as motivation to earn the degree I always dreamed of achieving." 
Director of Campus Development and Alumni Relations Desiree Voitek expressed gratitude to Schiavo's sister, Linda L. Schiavo, and the Luzerne Foundation, for facilitating the contribution. Linda L. Schiavo serves as a trustee and the Luzerne Foundation manages the Pasco L. Schiavo Charitable Trust, from which the Pasco L. Schiavo Scholars Program was established.  
"We are honored to receive a gift that will do so much to benefit students from the Hazleton community in pursuit of their academic goals at Penn State Hazleton," Voitek said. "We thank Linda and the Luzerne Foundation for their partnership and their efforts in making this valuable support possible." 
Luzerne Foundation President and CEO David Pedri said, "The Luzerne Foundation is delighted to collaborate with Linda and Penn State Hazleton on the Pasco L. Schiavo Scholars Program. By supporting students from the Hazleton area who are enhancing their lives through higher education, we are helping to continue Pasco's resolute dedication to the betterment of the Hazleton community." 
One of the largest benefactors in Penn State Hazleton history, Pasco L. Schiavo's commitment to the campus has spanned nearly 60 years, with roles as donor, instructor, volunteer and president of the campus advisory board. 
A Hazleton native, Schiavo taught law and Spanish part-time at Penn State Hazleton for seven years beginning in the 1960s. After graduating from the University of Pennsylvania law school, he went on to become a Luzerne County assistant district attorney, a member of the Disciplinary Board of the Supreme Court of Pennsylvania and a designated "Super Lawyer" by Thomson Reuters, an organization that rates attorneys for consumers. Schiavo also had his own legal practice in Hazleton.
At Penn State Hazleton, he established and endowed the Pasco L. Schiavo Open Doors Scholarship and, in memory of his parents, the Louis and Josephine Shayna Schiavo Scholarship, and the Louis and Josephine Shayna Schiavo Trustee Scholarship.
Additionally, Schiavo served on the Penn State Hazleton Council, the campus advisory board, in various leadership positions including president and as campus chair of For the Future: The Campaign for Penn State Students, a University fundraising campaign from 2007-14 which raised more than $7.6 million, or 127% of the goal, for Penn State Hazleton.
The campus honored his $1 million gift in 2014 by naming the campus administration building Pasco L. Schiavo Hall in his honor. He was named an honorary alumnus and recognized by the Penn State Alumni Association in 2015. As a result of his longtime generosity to the campus, he was inducted into the distinguished Laurel Circle of the Mount Nittany Society.
In 2019, a year after his death, a $1 million gift from his estate resulted in the Hazleton LaunchBox supported by Pasco L. Schiavo, Esq., being named in his honor. The LaunchBox provides early-stage startups with the tools to build a sustainable business and a viable plan for growth. Since opening its doors in fall 2019, it has supported hundreds of community members and provided services and resources for dozens of businesses.
With the record-breaking success of "A Greater Penn State for 21st Century Excellence," which raised $2.2 billion from 2016 to 2022, philanthropy is helping to sustain the University's mission of education, research and service to communities across the commonwealth and around the globe. Scholarships enable Penn State to open doors and welcome students from every background, support for transformative experiences allows students and faculty to fulfill their vast potential for leadership, and gifts toward discovery and excellence help serve and impact the world. To learn more about the impact of giving and the continuing need for support, please visit raise.psu.edu.