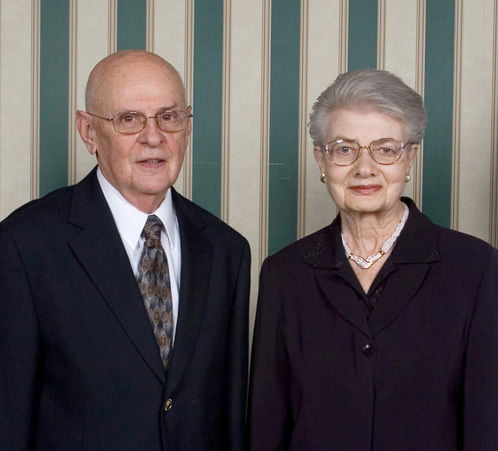 HAZLETON, Pa. — A gift of more than $900,000 from the estates of longtime Penn State Hazleton benefactors Joseph and Evelyn Adams will further contribute to the late couple's legacy of supporting student success and educational access.
The contribution will be split evenly between two scholarships the Adamses previously established at Penn State Hazleton, the Joseph Adams, Jr. Scholarship and the Joseph and Evelyn M. Adams Trustee Scholarship.
Established in 1998, the Joseph Adams, Jr. Scholarship provides assistance to undergraduate students from the Greater Hazleton area who are pursuing or planning to pursue a bachelor's degree in business. The Joseph and Evelyn M. Adams Trustee Scholarship, created in 2004, is intended for undergraduate students pursuing a business degree at Penn State Hazleton who demonstrate a financial need.
"Joseph and Evelyn believed deeply in the value of a Penn State education," Penn State Chancellor Elizabeth J. Wright said. "Their legacy of giving at Penn State Hazleton is a testament to their kindness and generosity. We're grateful for this transformative gift and look forward to the profound impact it will have on the lives of Penn State Hazleton students for many years to come."
Director of Campus Development and Alumni Relations Desiree Voitek added that philanthropic support from donors, alumni and friends of the campus helps pave the way for a bright future at Penn State Hazleton by opening doors to education.
"The generosity of supporters like Joseph and Evelyn continues to be a driving force behind student success at Penn State Hazleton," she said. "This type of dedication makes a world-class Penn State education attainable to students aspiring to achieve their academic and professional goals."
The Adamses were members of the Mount Nittany Society, which recognizes the University's most generous donors for the impact of their cumulative giving, and the Atherton Society, which honors the philanthropy of those who establish a planned gift.
John Nonnemacher, a Penn State alumnus who helped the couple with their estate plans and served as Evelyn's court-appointed guardian, said she and Joseph were not only generous, but also extremely conscious of the needs of the community.
"Making an education at a world-class institution like Penn State possible for students from the Greater Hazleton area was very important to them," Nonnemacher said. 
Marge Stahura, a former Penn State Hazleton faculty member and friend of Joseph and Evelyn Adams, added that Joseph was very proud of his Penn State roots.
"He had a very warm spot in his heart for Penn State Hazleton that Evelyn embraced," she said.
A 1947 graduate of Hazleton High School, Joseph studied at Penn State Hazleton and transitioned to the University Park campus, where he graduated in 1951 with a bachelor's degree in liberal arts after majoring in commerce and finance.
In service to his country, he joined the U.S. Air Force and fought in the Korean War, attaining the rank of first lieutenant.
He went on to enjoy a more than 32-year career with General Electric, holding various administrative, financial and managerial positions in New York and Ohio.
In 1999, he married Evelyn. Though they were classmates at Hazleton High School, the two hadn't officially met until their 45th class reunion in 1992.
Evelyn had a long career at Hazleton State Hospital that began when she was still just a senior in high school. She earned a clerical position on a recommendation from a teacher and would go on to work at the hospital for more than 35 years. She retired in 1983 as a payroll supervisor.
Nonnemacher noted that Evelyn was kind and compassionate, and she cared for her brother, Jackie, for many years.
A supporter of the local arts community, she was an active member of the Hazleton Art League and served for several years on the Community Concert Board. She regularly attended art shows, concerts, and theatrical performances. She was also enthusiastic about travel, often taking road trips or bus excursions, including a visit to Rome with Joseph in 1999.
The two shared 14 years of marriage before Joseph died on June 30, 2013, at the age of 84.
Evelyn died on September 26, 2020. She was 90.
"They would be thrilled to know that what they earned in their years is being put to use for a Penn State education," Stahura said.
With the record-breaking success of "A Greater Penn State for 21st Century Excellence," which raised $2.2 billion from 2016 to 2022, philanthropy is helping to sustain the University's mission of education, research and service to communities across the commonwealth and around the globe. Scholarships enable Penn State to open doors and welcome students from every background, support for transformative experiences allows students and faculty to fulfill their vast potential for leadership, and gifts toward discovery and excellence help serve and impact the world. To learn more about the impact of giving and the continuing need for support, please visit raise.psu.edu.