Organizations throughout northeastern Pennsylvania learned what an asset Penn State Hazleton students are to their community through the service projects completed by sophomores enrolled in PT 204 (physical therapy assistant seminar).
The 34 students in the class were divided into six groups that chose their own service-learning projects, which varied from providing volunteer assistance to raising money for different organizations. Each group talked about the organization they helped during classroom presentations at the conclusion of the projects.
Gina Tarud, instructor in physical therapy, developed the service project component five years ago to make students more aware of their social responsibility.
"This particular course covers different areas in our field that we might not be able to address in specific courses," she said, noting that it highlights giving back to the community and promoting health and wellness. She told the students, who are pursuing associate degrees as physical therapist assistants, that they will be asked to take part in service activities throughout their career.
"In some fashion, the projects all promoted health and wellness, letting people know that others are out there to be a support system and lend a helping hand. This group of students in particular is really involved with giving back and volunteering their time to people in need," Tarud said.
The organizations the students chose for their service projects were the Helping Hands Society in Hazleton, the Diamond Bread Basket food ministry at Diamond United Methodist Church in Hazleton, the Blue Chip Animal Rescue Shelter in Dallas, Holy Family Academy in Hazleton, the Wounded Warrior Project and a homeless rehabilitation program in Schuylkill County.
One group of students worked with children at the Helping Hands Society, which offers services and programs for individuals with disabilities, some of whom are visually impaired.
PTA student Victoria Graver said the group members chose Helping Hands because they really wanted to work with children.
"My brother has a learning disability, so I liked seeing the children and their different ways of learning," she said. "I want to go into working with children as a PTA and it was helpful to work with different varieties of kids and learn more about each of their different personalities."
The students assisted children at a variety of stations designed to help combat visual perception problems. One of the stations involved playing a game that used letters to form words.
"Each child was at a different level and we had to adjust to how they learned, sometimes narrowing our focus," said PTA student Zach Stiner.
Executive Director Mary Beth Koch praised the students for their work, saying, "They were very positive with the children and helped them relax through the activities they did with them. The Penn State Hazleton students were wonderful. The children enjoyed their time with them very much."
One of the students from the group continues to volunteer there, along with another Penn State Hazleton student in a different program.
At the Diamond Bread Basket, the PTA student group served meals and visited with the people attending the once-a-month meal program.
Their tasks included serving food, cleaning trays and, perhaps most importantly, interacting with the visitors at the bread basket.
Volunteer organizer Lori Torstrup said she appreciated seeing new people get involved in the ministry, which served 97 meals of spaghetti, salad, bread and dessert on the day the students volunteered. "They served a great purpose, particularly by interacting with our guests. Some people don't realize how little others have until you see it firsthand. This isn't just giving them a meal, but it's giving them that time - taking the time to talk to them and give them a kind word, a smile, a pat on the back or a hug," she said.
The people who attend on the first Saturday of the month are in need of a meal or are lonely and seeking companionship. The Diamond Bread Basket was inspired by the words of Jesus Christ in Matthew 25:35-40, part of which reads: "For I was hungry and you gave me something to eat, I was thirsty and you gave me something to drink, I was a stranger and you invited me in."
The students were moved by their experiences at the bread basket.
"The fellowship, more than anything, is what touched me. The people who came knew each other and that was so important for them emotionally. That was our experience - being able to connect with others," said PTA student Maria O'Brien. "It's a humbling experience working in a soup kitchen. But rather than recipients, they were guests. We made it a point to say, 'Thank you for coming. We're so glad you came.'"
It wasn't only people who benefitted from the class members' service projects. One group of students volunteered to help animals at the Blue Chip Farm Animal Refuge, a no-kill shelter in Dallas.
The group was assigned tasks that included cleaning kennels, mucking horse stalls, shoveling a path for a dog walk, cleaning the inside areas and sorting and organizing donated items.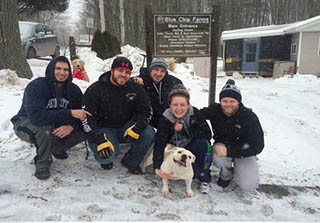 "Anything they were asked to do, they did it well. They were not deterred by the cold weather and were all polite, respectful and thorough," said Blue Chip regular volunteer Carol Wills. Several of the students said they plan to return to Blue Chip when the weather gets warmer and their help is needed even more.
The students enjoyed interacting with the animals and were especially fond of an English bulldog named Samantha.
"You could tell the dog knowledge was there," Wills said, noting that the shelter houses hundreds of animals, including dogs, cats, rabbits and occasionally a pot-bellied pig.
At Holy Family Academy, the Penn State students set up health and wellness activities for students in pre-kindergarten, kindergarten and eighth grade.
"The purpose of this project was to help integrate a healthy lifestyle into children's lives to decrease the risk of health problems, increase muscle strength and flexibility, help them have a healthy weight and reduce stress by having an active lifestyle," said PTA student Sarah Kaltreider.They worked with about 75 students to help them increase their mobility and flexibility through activities such as exercise stations, bowling and a giant parachute, a favorite of the children's. In keeping with their physical therapist assistant studies, they modified the activities based on age and ability, and helped a student who was in a wheelchair participate as well.
Principal Donald Bayzick said, "The students came in well prepared and designed a great group of activities for the kids that were age appropriate and that the kids enjoyed. They received it very well and talked about it for days afterward."
Nothing that 1 percent of the U.S. population has served in the military, another group in the class raised funds for the Wounded Warrior Project. The project gives back to wounded veterans, helping the men and women deal with the injuries and disabilities they face, including post-traumatic stress disorder. The organization was founded after Sept. 11, 2001, to raise awareness and assistance for the needs of injured military personnel.
To raise money, members of the group collected donations while bagging groceries at Gerrity's supermarket in Nanticoke. Many customers thanked them for their support of the cause, and the group raised $500 after a long day of bagging.
Another group raised money for a newly forming homeless rehabilitation program in Schuylkill County, where all the members of the group live. Billing their fundraiser as "stick it to homelessness," the group organized an event that put one of their instructors' backs against the wall - literally. For $1, people could purchase a strip of duct tape to secure Rose Petrilla, senior instructor in physical therapy and program coordinator, to the wall.
In just 40 minutes, the group raised $125. They also set up collection boxes around campus to gather coats, scarves, hats, gloves, sweaters and hand warmers for the homeless shelter. The program, based in downtown Pottsville, will provide two meals a day and assistance with clothing and toiletries.
Student Tracy Blankenhorn said the group's experience was different from that of the other groups and required a good deal of communication behind the scenes.
"The physical therapy assistant program encourages us to be proactive in the community - not just treating patients, but rather getting out and being an active part of the community," she said.
Blankenhorn said the members of her group were happy to know they were helping with an important cause, saying, "We live in an area where we might not think of homelessness that much, but there are people right in our area who are homeless. We realized there are no resources for them and wanted to help this opportunity program in our county get off the ground."