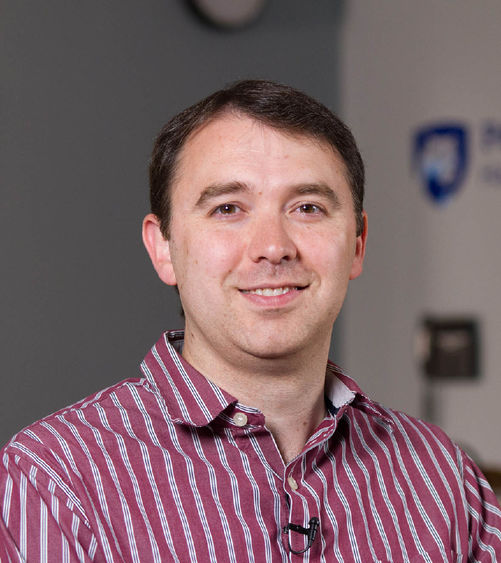 HAZLETON, Pa. — Joseph Ranalli, associate professor of engineering at Penn State Hazleton, has been appointed engineering discipline coordinator for Penn State's University College.
In this role, Ranalli will mentor and support University College engineering faculty members who are pursuing promotions or tenure. He will also provide guidance to campus administrators who are conducting annual reviews of University College engineering faculty members' performance.
"This appointment is a reflection of Joe's excellent track record as a Penn State Hazleton faculty member," Interim Director of Academic Affairs Albert Lozano-Nieto said. "His knowledge, expertise and years of experience will no doubt be a great benefit to fellow faculty members who are seeking advice and aiming to advance their careers."
Ranalli said he is eager to learn from fellow engineering faculty members and grateful for the opportunity to provide the same kind of support he received as a new faculty member.
"I think it will be a good chance for me to get to see great things that other faculty members are doing and to see what I can bring back to improve my own teaching and work here at Penn State Hazleton," Ranalli said. "When I was a new faculty member at Penn State, I really appreciated the time and care with which senior faculty members and discipline coordinators provided guidance that helped me to succeed. I really look forward to the opportunity to give back some of that positive experience and to help our newer engineering faculty navigate their own promotion and tenure process."
Before joining the faculty at Penn State Hazleton in 2012, Ranalli spent three years performing postdoctoral research at the National Energy Technology Lab in Morgantown, West Virginia. He received a bachelor's degree in mechanical engineering from Penn State as a Schreyer Honors scholar and a doctorate in mechanical engineering from Virginia Tech, where he worked in combustion dynamics. He previously served for several years as coordinator of the campus alternative energy and power generation engineering program.
His research focuses primarily on renewable and alternative energy, engineering education, and how to incorporate technology into the classroom. He and fellow engineering faculty regularly perform research alongside students in the program.
Ranalli joins fellow Penn State Hazleton faculty member Pamela Black as current University College discipline coordinators. Black, professor of criminal justice, serves as the University College's social sciences and education discipline coordinator.