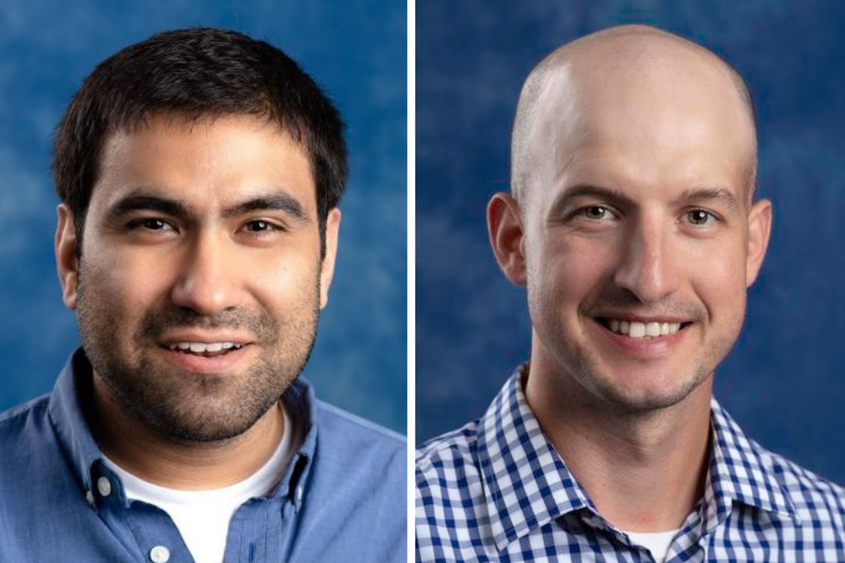 HAZLETON, Pa. — Penn State Hazleton faculty members Dan Patel and William Yourey have received academic promotions effective July 1, Chancellor Gary M. Lawler announced.  
Patel has been promoted to associate professor of chemistry, while Yourey has been promoted to associate professor of engineering. Both are tenured positions. 
"At Penn State Hazleton, we take great pride in the educational experience provided by our faculty," Lawler said. "These promotions earned by Dan and Will reflect their dedication to teaching, learning, outreach and their disciplines. We congratulate them on this well-deserved honor." 
Elizabeth J. Wright, director of academic affairs and associate dean of academic affairs in the Office of the Vice President for Commonwealth Campuses, added, "Working closely with Dan and Will over the years, it is clear they exemplify Penn State Hazleton's mission of providing the highest standards of teaching, research and service. We are confident students will benefit from their knowledge and enthusiasm for many years to come." 
Patel was hired at Penn State Hazleton in 2013 after postdoctoral research associate positions at the University of Buffalo and University of Florida. Prior to that, he served as an adjunct chemistry instructor and a research/teaching assistant at the University of Washington, where he earned his doctorate in chemistry in 2007. He graduated cum laude from the University of Houston in 2001 with a bachelor's degree in chemistry. Patel's research focuses primarily on photochromic molecules, or molecules that react to light. 
Patel, whose course load includes introductory-level chemistry courses, said he appreciates seeing students at the beginning of their educational careers react to experiments and start to develop a passion for chemistry. 
"I love sharing knowledge with students and watching them learn," Patel said. "My goal is to help them become better scientists and better-informed citizens." 
He described the promotion as the culmination of all the effort he has put into his career to this point. 
"It just makes me eager for the fall semester to start so I can get back into the classroom and teach," he said. 
Yourey began his career at Penn State Hazleton in 2016 after working for several years as a senior project engineer at Teledyne Energy Systems in Maryland. There, he developed secondary electrochemical cell products, modified and upgraded existing designs, and ensured projects remained on budget, among other duties. He earned his doctorate and master's degree in materials science and engineering at Rutgers and a bachelor's degree in chemistry from Millersville University.  
Yourey's research is in the field of energy storage. 
"It fits in well with the idea behind our bachelor of science in engineering degree with an alternative energy and power generation track," Yourey said. "For the world to become more sustainable, energy storage is needed for things like solar panels and turbines. It is a growing and needed field." 
Yourey said he is grateful for the support he received from the administration and campus as he worked toward earning his academic promotion, which included providing funding for him to conduct scientific research at the Lawrence Berkeley National Laboratory in California. 
"It's gratifying to see all the hard work over the past several years pay off," Yourey said.