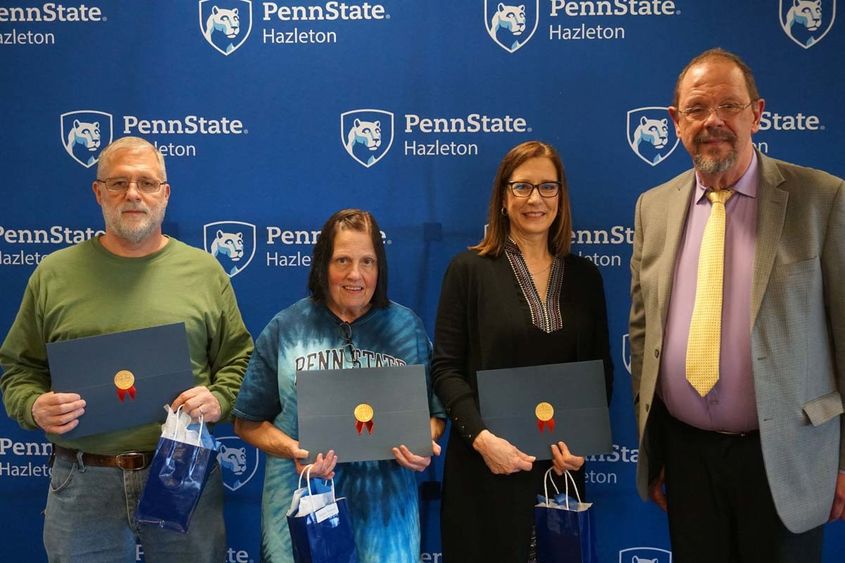 HAZLETON, Pa. — Penn State Hazleton honored nearly two dozen employees marking milestone anniversaries with the University during its annual "Years of Service" luncheon held recently. 
Chancellor Gary M. Lawler and other campus leaders commended the honorees for their work ethic, enthusiasm and commitment. 
Employees recognized during the ceremony include:  
One year: Matt Cannon, maintenance worker; Megan Hurley, academic adviser; Laura Gerth-Makarczyk, campus nurse; and Emily Zocchi, administrative support assistant. 
Five years: Erik Angel, information resources and services support specialist; Andrea Shook, practical nursing program coordinator; and William Yourey, assistant professor of engineering. 
Ten years: Lori Reno, assistant teaching professor of business; and Karen Stylianides, assistant teaching professor of kinesiology. 
Fifteen years: Maggie Gordon Froehlich, associate director of academic affairs and associate professor of English and women's gender and sexuality studies; Valerie Lynn, head librarian; and Danielle Ruggiero, food service worker. 
Twenty years: Susan Bartal, director of strategic communications; Pamela Black, professor of criminal justice; Paul Jaskierski, maintenance worker; Semyon Litvinov, professor of mathematics; Kathleen McGlynn, maintenance worker; and Barbara Trainor, janitorial worker. 
Twenty-five years: Debra Conway, director of continuing education; and Bonnie Sukana, administrative support assistant. 
Thirty years: Peter Crabb, professor of psychology; and John Dovan, food service worker.