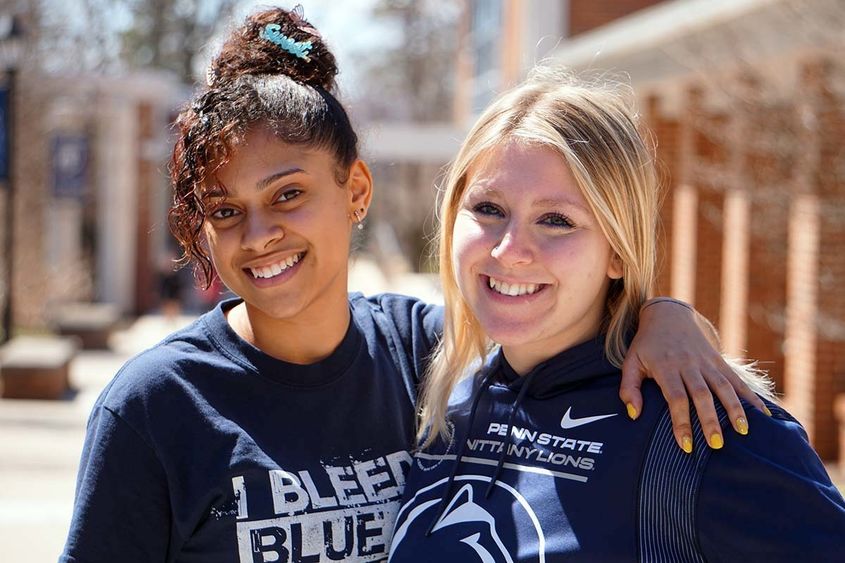 HAZLETON, Pa. — As the newly elected leadership of Penn State Hazleton's Student Government Association (SGA), Shayla Heitczman and Yokaira Concepcion are eager to get started on their plans for the future of the campus. 
Heitczman, a first-year student from Weatherly, and Concepcion, a second-year student from Hazleton, were elected by their fellow students as president and vice president, respectively, during SGA elections in the spring semester. 
Heitczman and Concepcion said they were drawn to SGA because of the opportunities it provided to develop leadership skills, meet new people, and collaborate with other clubs, organizations and departments across campus. 
"I wanted to become a leader on campus," said Heitczman, who plans to dual major in criminal justice and psychology. "It being a smaller campus community, I knew I could have the opportunity to step up and make a difference." 
Concepcion, a criminal justice major, added, "I joined because I have experience from student council in high school and I thought it could benefit the SGA here. I also was interested in meeting new people with different backgrounds and viewpoints." 
Among their top priorities in their new roles is strengthening student engagement on campus and in the local community. 
"I want to make the experiences on campus even more fun," Concepcion said, noting that SGA hopes to help create more clubs and organizations and host more events and activities so that students have more ways to get involved. 
Joining SGA at such an early stage of their college careers allows students like Heitczman and Concepcion to bring fresh viewpoints to the organization, said Rob Knight, associate director of student services and engagement. 
"Shayla and Yokaira have a unique opportunity to leave an impactful legacy as president and vice president as they begin their Student Government Association leadership roles as first- and second-year students," he said. 
Students participating in SGA prepare for their roles as citizens in the community while developing a sense of responsibility for the welfare of other students and the student community. The group's duties include initiating all legislation concerning the welfare of the student body, supporting the functions and activities of the student body, and vesting authority to student organizations. 
"Joining SGA doesn't just help the campus," Heitczman said. "It helps the individual learn how to be a leader and find their voice." 
The Student Government Association is still seeking students to serve as senators during the 2022-23 academic year. To join or learn more about opportunities in SGA, email Heitczman at [email protected] or Concepcion at [email protected].