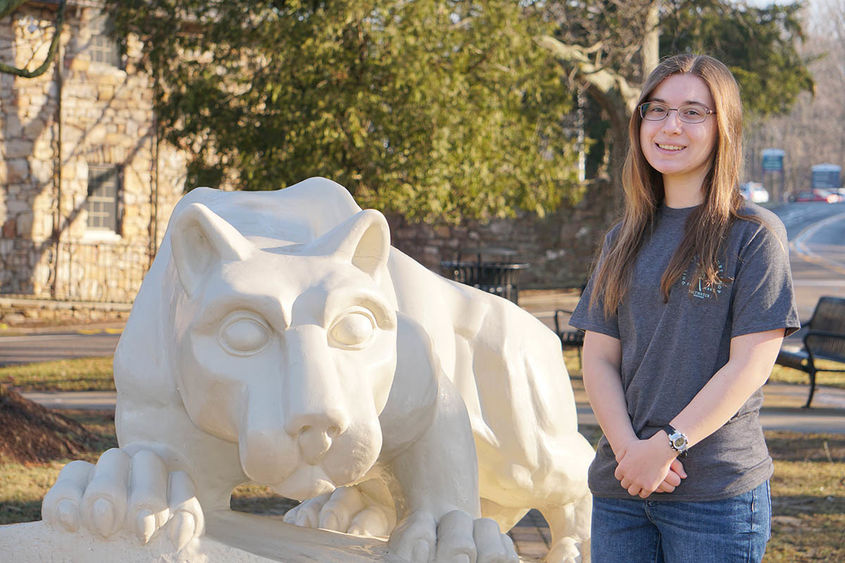 Lauren Gombeda, a third-year student majoring in information sciences and technology and minoring in security and risk analysis, has been named Penn State Hazleton's February student of the month.
Since arriving on campus in 2019, Gombeda, of Hazleton, has dedicated her time and knowledge towards helping her classmates succeed in the classroom as a peer tutor in the Math Dimension, guiding students from basic math to calculus, according to her nominator. 
"She is always and consistently nice, honest, and helpful to her peers," her nominator wrote. 
Gombeda said she became a peer tutor after discovering how valuable the resource was to her as a first-year student. 
"I became a tutor because I wanted to pay it forward and help other students who might also need a little extra help with their math problems," she said. "I feel good knowing that I can help make a difference for someone and help them succeed." 
In addition to her three years as a math peer tutor, Gombeda served as a mentor to first-year students during her second year in the Pathway to Success: Summer Start (PaSSS) program. She has also worked in the Student Success Center and Student Engagement office, and currently works in the Strategic Communications office, providing assistance with the campus website. 
"I am grateful for this award, and I am thankful to all my professors that helped me get this far," Gombeda said. 
Gombeda is a graduate of Hazleton Area High School. She is the daughter of David and Barbara Gombeda of Hazleton.