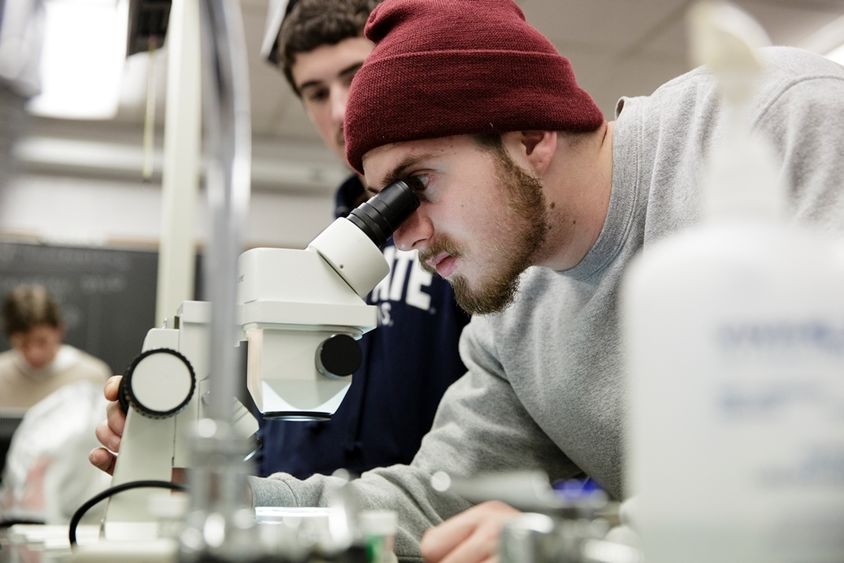 HAZLETON, Pa. – Students at Hazleton or University Park campuses of Penn State who are conducting research or scholarly work under the guidance of Hazleton faculty are invited to present their work at the annual Undergraduate Research Symposium from April 5-8. 
Students can enter projects in one of two categories: arts, humanities and social sciences, or science, technology, engineering and mathematics (STEM). Projects are submitted through Canvas, where they will be judged by volunteers from the faculty and staff at Penn State Hazleton.  
Nargess Tahmasbi, assistant professor of information sciences and technology and co-chair of the Undergraduate Research Committee, said Penn State Hazleton's Undergraduate Research Program provides an opportunity for students to work closely with faculty members on tasks that focus on critical reasoning and analytical thinking. 
"Working under supervision of a faculty member in this journey is a great opportunity for students to build up those skills," Tahmasbi said. "In addition to the methodological and technical expertise, students will get to develop collaboration, time management, and conflict resolution skills that would go a long way in their future careers." 
Tahmasbi noted that the symposium is an ideal opportunity for students who may be considering a graduate program, as research and scholarly work are a fundamental component of graduate studies. 
Ellen Raineri, assistant teaching professor of business and co-chair of the Undergraduate Research Committee, said that depending upon the type of research, students can have hands-on experience in survey development, data gathering, data analysis, critical thinking, knowledge creation, problem solving, and formal writing, that will help them in the classroom and as they enter the workforce. 
"Undergraduate research may expose students to additional career choices or majors/minors that they'd like to pursue," she added. 
Students can also elect to compete for the Mary M. and Bertil E. Lofstrom Library's Information Literacy Award. Students interested in competing should produce a separate electronic document that they will post within Canvas. The document should include a list of references and a brief explanation of how each reference supported the work. 
Students must register for the symposium by Monday, March 28. Submissions are due by Thursday, March 31. 
Once registration is completed, a discussion thread will be created in Canvas for each student to upload their project. It will include the title, authors, abstract and references. There, students will have tasks they must complete while other tasks will be optional: 
All students must post a reply and upload their poster file by 9 p.m. Thursday, March 31. Throughout the research symposium, they are encouraged to engage with other participants on their discussion thread. 

Students can hold a live Zoom session from 12:20-1:10 p.m. Friday, April 8, just as if they were standing in front of their posters. If they want to do so, students must post a reply that includes a link to their Zoom meeting. 

Students can record a brief presentation in Zoom on their own time and make this recording available on Canvas. Students must then post a reply that includes a link to their recording. 
Winners will advance to the Regional Undergraduate Research Symposium on April 21 at Penn State Schuylkill. 
Visit Penn State Hazleton's Undergraduate Research webpage for more information.