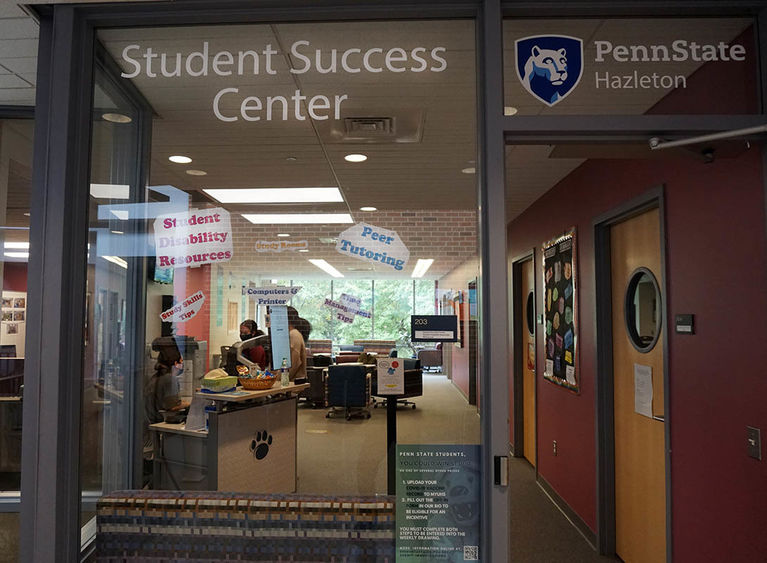 HAZLETON, Pa. — Penn State Hazleton's Student Success Center has introduced a free tutoring service for the spring 2022 semester that allows students to connect online 24/7 with an expert tutor in subjects including business, healthcare, math, and science. 
The Tutor.com service, launched as a supplement to the tutoring and academic support resources currently offered through the Student Success Center and Math Dimension, is designed to provide students around-the-clock access to tutors, said Student Success Center Coordinator Tammy Spevak.  
"We've seen that students are often studying or completing assignments late at night or at other times when our tutors aren't available," Spevak said. "Tutor.com gives students the opportunity to meet with a tutor to receive help when and where they need it." 
The service is currently being piloted only for students who are enrolled in specific business, healthcare, math, and science courses at Penn State Hazleton during the spring 2022 semester, she said. Each student will have access to up to 10 hours of tutoring for the semester. 
Spevak noted that the current courses were chosen because they are the courses that students typically request help with the most, but more courses may be added depending on demand. 
Students enrolled in the following courses during the spring 2022 semester will see an option on their left navigation menu in Canvas to connect with a Tutor.com tutor: 
Business 
ACCTG 211 
ECON 102, 104 
FIN 301 
Healthcare 
MICRB 151C, 151W 
PT 100, 120, 260, 280W 
Math 
Math 4 
Math 26 
Math 230, 231 
Math 250, 251 
Sciences  
BIOL 163, 164, 230, 240 
CHEM 110, 111, 112, 113, 211 
MICRB 201, 202 
PHYS 212, 250 
Tutoring sessions begin immediately and students can connect with a tutor for as little or as much time as they need. Students can also upload a specific document or file that they'd like to share with their tutor and can save the tutoring session to refer back to later.  
Spevak added that sessions are largely informal, with students having the option to either voice chat or message their tutor, whichever is most comfortable for them. 
Additionally, Tutor.com's YouTube channel provides all Penn State Hazleton students with access to study tools and lessons, diagnostic quizzes, and instructional videos. 
Students who need technical assistance are encouraged to email [email protected]. All other questions can be directed to the Student Success Center in Room 203 of the Charles T. Butler Teaching and Learning Resource Center or to Spevak at [email protected].