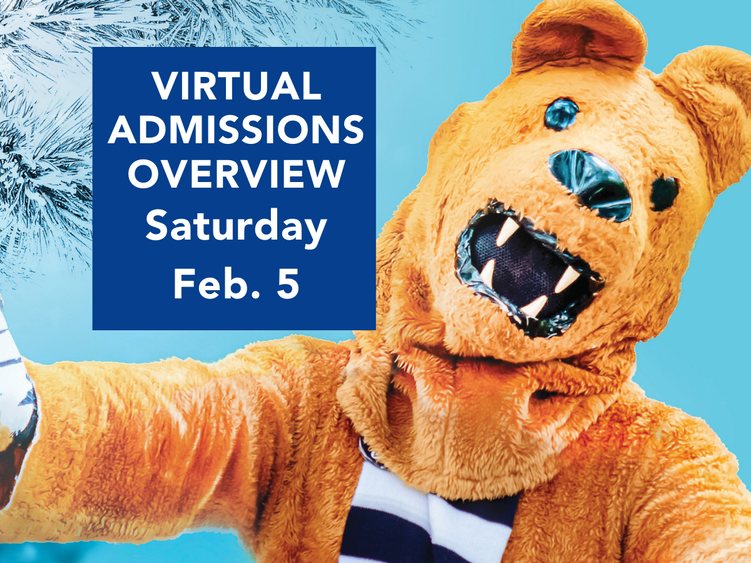 HAZLETON, Pa. — Penn State Hazleton will pivot from its planned in-person Open House on Saturday, Feb. 5, to a virtual format scheduled to begin at 10 a.m. on the same date. 
Students and their families who had already registered for the Open House will be contacted by an admissions staff member with details on how to join the campus' Virtual Admissions Overview event. Those who have not signed up for the Open House and are interested in attending the Virtual Admissions Overview must register in advance. 
The Virtual Admissions Overview event will provide high school students, current college students looking to transfer, or students who are thinking about resuming their education after taking time off, with opportunities to learn about the admissions process, financial aid, academic programs, and campus life at Penn State Hazleton. 
During the event, prospective students will talk with admissions staff, hear about scholarships and financial aid, meet current students, and take a virtual campus tour. Participants also will learn about Penn State's flexible campus system, featuring degrees that can be completed at Penn State Hazleton, or started at Penn State Hazleton and finished at University Park or another Penn State campus. 
Contact the Penn State Hazleton Admissions Office at 570-450-3142 or [email protected] for questions or more information. 
About Penn State Hazleton  
Penn State Hazleton is a scenic, 125-acre campus in northeastern Pennsylvania overlooking the Conyngham Valley and conveniently located near interstates 80 and 81. In addition to baccalaureate and associate degrees that can be completed on campus, Penn State Hazleton offers the first two years of more than 275 Penn State majors, allowing students the flexibility to transition to University Park or another Penn State campus to complete their degree. The campus features University-managed residential housing, recently updated facilities with state-of-the-art classrooms and engineering and science labs, a food court-style dining hall, and recreation facilities containing a gymnasium, cardio room, weight room, swimming pool, and intramural and club sports. Penn State Hazleton also offers men's and women's athletics teams that compete statewide and nationally. Nearly 90% of students receive some form of financial assistance. Learn more at hazleton.psu.edu.