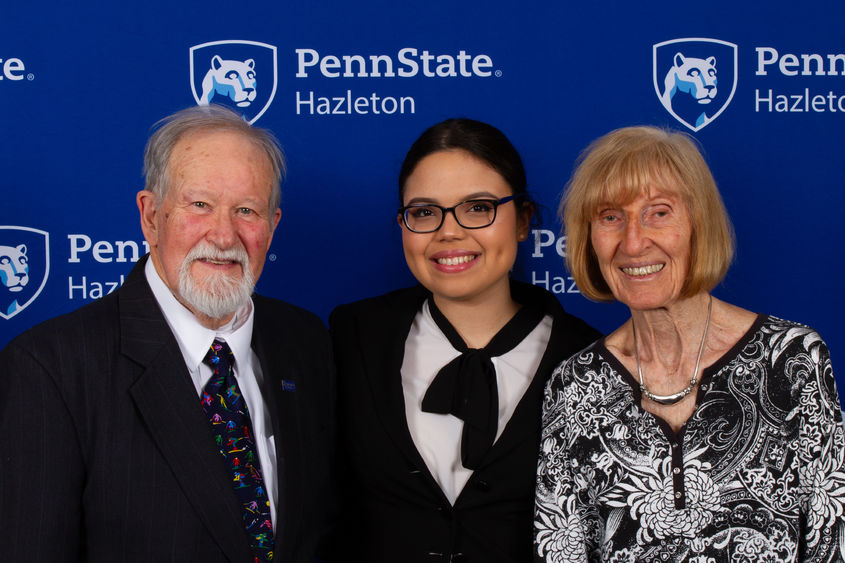 HAZLETON, Pa. — A gift from longtime campus supporters Raymond and Marjorie Bittner will establish a new scholarship at Penn State Hazleton. 
The Raymond and Marjorie Bittner Scholarship, the second scholarship established at the campus by the couple, will support students from the Hazleton Area School District, with priority given to graduates of the Hazleton Area Academy of Sciences. 
"We greatly appreciate Raymond and Marjorie's continued generosity and support," Penn State Hazleton Chancellor Gary M. Lawler said. "This latest commitment is a testament to their dedication to assisting students from the Hazleton community in pursuit of their academic goals and a Penn State education." 
The couple, who currently reside in Pocono Lake, Monroe County, said they established the scholarship so that a college education could be more affordable and accessible to students from the Hazleton area. It's their hope that the opportunity encourages more students interested in STEM-related fields to remain in the area, they said. 
"This scholarship is a good way to help young people get ahead and have an opportunity at a better life," Marjorie Bittner said. 
"We're happy to do whatever we can do to assist students in getting an education," Raymond Bitter added. "And we know that every little bit helps." 
The couple said their motivation for providing the gift was to memorialize their son, Scott, who died in September. Scott Bittner, 57, attended Penn State Hazleton before transitioning to University Park, where he graduated with a bachelor's degree in civil engineering. He had recently retired following a long career with the Pennsylvania Department of Transportation, and was an avid traveler, having visited 48 states, his parents said. 
Raymond Bittner, a Hazleton native, studied business at Penn State Hazleton and served as treasurer for the Student Government Administration. He graduated from University Park in 1958 and went on to enjoy a 32-year career in property and casualty insurance. 
Marjorie Bittner grew up in Connecticut and joined the U.S. Air Force in an administrative role after graduating from high school. During her six years of service, she spent time in Germany and several other locations around the world. Afterward, she went on to work in the insurance business. 
The scholarship is the second established by the couple at Penn State Hazleton. In 2016, they established the Raymond L. and Marjorie L. Bittner Scholarship in Memory of Jeffrey R. Bittner, which supports students from the Hazleton Area School District who are planning to pursue a degree in business. The scholarship is named for the couple's son, who died in 2015. Jeffrey R. Bittner worked for Apple and spent time teaching English in Poland and Germany. 
The Raymond and Marjorie Bittner Scholarship will advance "A Greater Penn State for 21st Century Excellence," a focused campaign that seeks to elevate Penn State's position as a leading public university in a world defined by rapid change and global connections. With the support of alumni and friends, "A Greater Penn State" seeks to fulfill the three key imperatives of a 21st-century public university: keeping the doors to higher education open to hard-working students regardless of financial well-being; creating transformative experiences that go beyond the classroom; and impacting the world by serving communities and fueling discovery, innovation and entrepreneurship. To learn more about "A Greater Penn State for 21st Century Excellence," visit greaterpennstate.psu.edu.