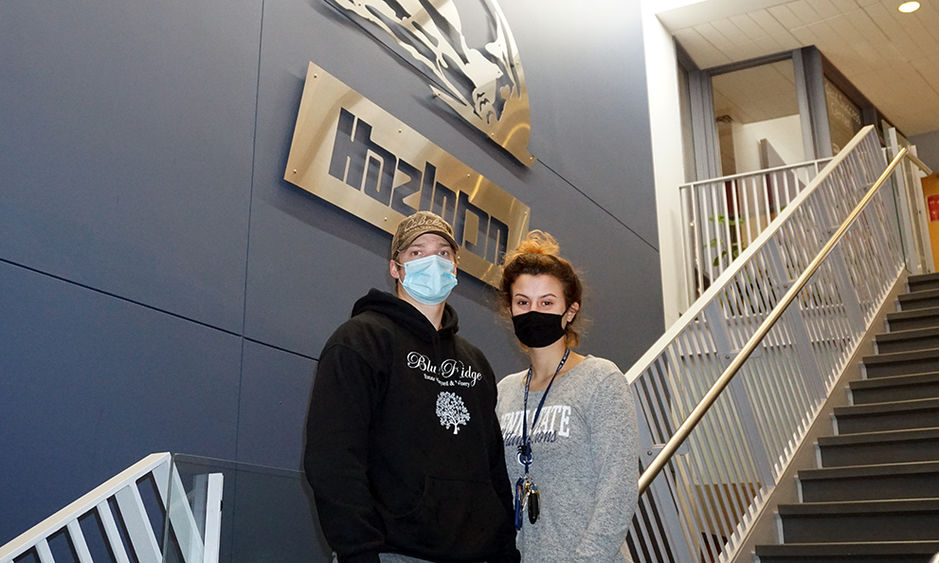 "We're a voice for our campus and that voice can benefit not only current students but future students as well."

—Alessandra Banta , Student Government Association president
HAZLETON, Pa. — Fourth-year student Alessandra Banta and second-year student Nicholas Ciszak are hoping to leave a lasting impact on Penn State Hazleton in their new roles as president and vice president, respectively, of the 2021-22 Student Government Association — and they're encouraging fellow classmates to join them in building that future. 
Students like Banta and Ciszak who participate in SGA prepare for their roles as citizens in the community while developing a sense of responsibility for their classmates. 
The group meets regularly to create legislation concerning the welfare of the student body, supports student functions and activities, and maintains and regulates campus customs and traditions, among other responsibilities. 
Banta, now in her fourth year as an SGA member, said her interest in leadership and making positive changes on campus is what drew her to the organization. 
"We're a voice for our campus and that voice can benefit not only current students but future students as well," said Banta, a psychology major from Coatesville. 
"By getting involved in SGA or any club or organization, you can meet a lot of great people, make a lot of great connections, and start friendships as well," added Ciszak, a criminal justice major from Kunkletown. 
The pair noted that because students were not on campus regularly over the past year-and-a-half due to the COVID-19 pandemic, the organization is in a rebuilding phase.  
With Banta graduating in the spring and Ciszak transitioning to University Park next year, their focus is providing SGA with a fresh start, building its membership, and shaping it into a resource that future generations at Penn State Hazleton can benefit from. 
"This is definitely a building year for a lot of programs," Banta said. "We're going to make SGA the best we can make it." 
Banta, formerly the SGA's sustainability chair, wants the organization to explore ways to make improvements to the campus' carbon footprint. As she and Ciszak are also resident assistants, improving the experience for students who live on campus is also among their goals, they said. 
Participation from fellow students will only make pursuit of those goals more effective and the organization stronger, Banta and Ciszak said. Additionally, as there is no limit to how many students can join SGA, anyone who joins can contribute to making a difference, they said. 
"Anyone could join, and anyone should join," Banta said. "If you want to get involved, if you want to make friends, or make changes on campus — big or small — Student Government Association is the place to go." 
Banta and Ciszak, who are both student athletes and resident assistants, said the support they receive from Robert Knight Jr., associate director of Student Services and Engagement, and David Laird, coordinator of Residence Life, has been helpful with their busy schedules. It also has been key in getting the organization established and effective on campus. 
"Whenever there are questions that are too big for us answer on our own, they're in our corner to try and help push for things that we can't necessarily push for ourselves," Ciszak said. 
Knight said the same level of support is provided to any students who choose to become involved in a club or organization. 
"An important part of what makes the Penn State experience so special is the ability to make it your own," Knight said. "We encourage students to seek out experiences that benefit not only their educational goals, but their personal goals as well. That includes joining clubs or organizations or starting your own here on campus." 
In addition to Banta and Ciszak, 2021-22 SGA members include:  
Secretary: Nikki O'Neil 
Treasurer: Karla Cabrera 
Sustainability Chair: Zorangel Sosa 
Student Affairs Chair: Aubrey Smith 
Governmental Affairs Chair: Bryce Dalpiaz 
Academic Affairs Chair: Shayla Heitczman 
Public Relations Chair: Robert Braun 
Student Affairs Committee members: Rochelle Rodriguez, Kahlan Ciardullo and Solomon Grant 
Academic Affairs Committee members: Savannah Bauer 
Sustainability Committee: Alexis Wildt 
Senators: Kayla Northstein and Ryan Connors 
Any students interested in joining the Student Government Association can email Banta at [email protected] or stop by the organization's meetings, which are held at 12:15 p.m. on Thursdays in Butler 103.