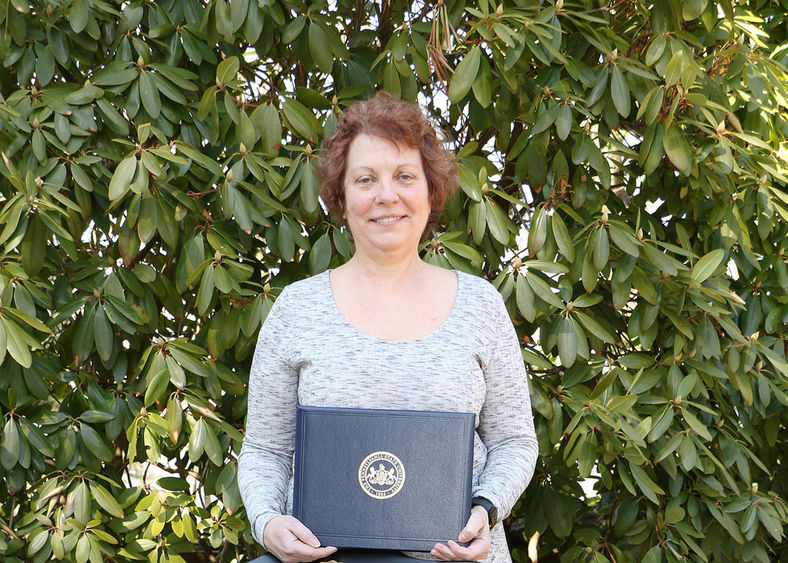 HAZLETON, Pa. — Fresh off marking her 25th year with Penn State, including the last two decades at Penn State Hazleton, Associate Teaching Professor of Information Sciences and Technology (IST) Barbara Brazon has another milestone to celebrate — winner of the College of IST's Statewide Faculty Member of the Year Award. 
The annual award, announced at the College of IST's recent statewide faculty meeting, honors the contributions of outstanding full-time IST faculty from across the commonwealth who exemplify the college's mission to improve the lives of people in Pennsylvania, the nation and beyond through teaching, research and outreach. 
Brazon, longtime IST program coordinator and one of the campus' first IST faculty members, said she was humbled to learn she had earned the award and grateful for the recognition from her colleagues in the College of IST.  
She said her greatest joy has been seeing students succeed. 
"I get more pleasure in my life from hearing stories of students who have succeeded and are happy than anything," Brazon said, noting she has kept in touch with Hazleton alumni who have gone on to roles with Google, Amazon and the federal government, to name a few. 
"I just want them to be moral, ethical, happy and successful in life," she added. 
Brazon began her career in higher education in 1999 at Penn State Wilkes-Barre, where she helped establish the campus' IST program. She joined Penn State Hazleton in 2001 as one of its IST program's four original full-time faculty. 
"Barb's dedication to student success and enthusiasm for information sciences and technology has been evident from the day she first stepped on campus," said Elizabeth J. Wright, director of academic affairs at Penn State Hazleton and associate dean for academic affairs in the Office of the Senior Vice President for Commonwealth Campuses. "We are grateful for her many years of devotion and delighted to join others from around the Penn State community in congratulating her on this well-deserved recognition."  
Brazon will receive an engraved Nittany Lion statue, a cash prize, and have her named permanently added to the award plaque displayed in the Westgate Building at University Park, home to the College of IST.
In nominating her for the award, Penn State Scranton Professor of Information Sciences and Technology Alan Peslak said Brazon is one of the College of IST's hardest working faculty members, regularly teaching five classes or more a semester.  
He credited Brazon for her mentoring of faculty and students, approach to service learning, contributions to student recruiting and orientation, dedication to the IST program, and participation in Girl Power in STEM, an event focused on engaging female students from area high schools in STEM.  
"No one has done more for her campus than Barb," Peslak said in his nomination. 
Brazon typically advises an average of 30 students per semester and often meets with adult learners and international students on nights and weekends to accommodate their schedules, she said. She regularly advocates for the program at on-campus, off-campus and virtual recruiting events. 
Among the accomplishments Brazon said she is most proud of is an internship program she began to connect students with local businesses and organizations. The students support nonprofits, small businesses and the campus community by performing information technology work on websites and other projects while gaining problem-solving, communication and teamwork skills. 
"I take real-world projects and bring them into the classroom," she said. "And I try to do it in every single class I teach so that students can gain knowledge and the experience of working in the real-world business environment in which they will be employed." 
Active in several University and campus committees and organizations, Brazon is a member of the IST program's Curricular Affairs Committee, where she helps evaluate proposed changes to program requirements and options. She is also currently president of the Hazleton Faculty Senate and has served on the Educational Technology Committee for the past 15 years, including the last three years as chairperson. 
She celebrated her 25th year of service to Penn State earlier this year.