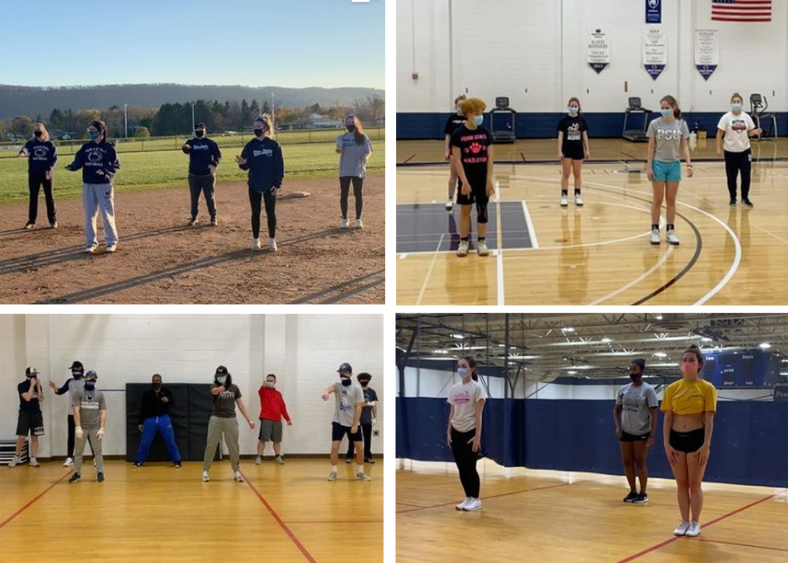 HAZLETON, Pa. – A group of Penn State Hazleton students evoked the spirit of Penn State THON weekend for a class project, raising hundreds of dollars for this year's 46-hour dance marathon while also getting fellow students active and engaged.
Mackenzie Joy, Devon Keiper and McKayla Wildrick created and organized a virtual dance contest benefiting THON 2021 for their public relations and marketing class.
"We were very limited on what we could do because of COVID-19," said Wildrick, a junior majoring in business with a management and marketing option. "We ultimately chose to do a virtual event for safety purposes, but also wanted to make sure it was fun and inclusive."
The group said it chose THON because it is a cause "near and dear to every Penn Stater's heart." This year, due to COVID-19, the student-run dance marathon will shift to a virtual format on Feb. 19-21.
"I was part of THON club and attended THON last year and it is something I will never forget," said Keiper, who graduated in fall 2020 with a bachelor of science degree in business. "Being able to raise awareness and money for THON for a class project was exciting and watching the participants' videos was definitely entertaining."
To enter the competition, participants had to donate to THON and submit a video of themselves dancing. Submissions were posted on an Instagram account the group created. The campus community then picked their favorite video by "liking" the post.
Penn State Hazleton cheerleaders Elizabeth Madurki, CJ Narramore and Aliana Roman earned the most likes and won first prize. Penn State Hazleton's baseball, softball and women's basketball teams were among those to compete as well.
"Something I will remember is getting the experience to run a PR event from beginning to end," said Joy, a senior who is also majoring in business with a management and marketing option. "Going through all the stages and getting to see the finished product is very rewarding."
In addition to the unusual experience of planning an event during a pandemic, the group also gained an understanding of working with other campus departments.
"Collaborating with the faculty and staff of Penn State Hazleton to benefit THON was extremely helpful for us and taught us that there are so many resources on this campus to help with anything we need," Keiper said.
THON, the largest student-run philanthropy in the world, has raised more than $180 million through its network of student volunteers and partners since its inception in 1976. Ninety-six percent of all funds raised go directly to Four Diamonds. Four Diamonds picks up where insurance leaves off, enabling families to solely focus on care for their child. Assistance from Four Diamonds helps to make sure counselors, social workers, music therapists and other specialists are available to provide comprehensive care in a family-focused atmosphere.
For more information, or how to donate, visit THON.org.
A livestream of the event will be available at thon.org/livestream.