Mylar Giri Lecture
The Mylar Giri Lecture series was established in 1988 to honor a beloved Penn State faculty member by inviting a distinguished speaker in the natural sciences to the Hazleton campus.
As a researcher, Giri's interests included percolation, phase transitions and polymers. He had taught in Hazleton for eight years before he died in 1988 at the age of 37.
That year, the Mylar Giri Lecture series was established to honor him by inviting a distinguished speaker in the natural sciences to Penn State Hazleton.
George Tseo Memorial Lecture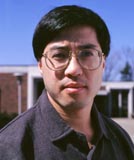 Dr. George Tseo
This lecture series was established in memory of George K. Y. Tseo, Ph.D., assistant professor of earth sciences, who taught at Penn State Hazleton from 1988 until he passed away in October 2005 from brain cancer. In addition to teaching meteorology, he was the author of numerous publications in a variety of forums on the Chinese economy and served as a Chinese policy consultant.
Constitution Day
Constitution Day is an effort to continue the legacy of the thirty-nine original signers of the U.S. Constitution on September 17, 1787, and develop habits of citizenship in new generations of Americans.
Beginning in 2004, institutions of higher education in the United States have been required to commemorate the signing of the Constitution by hosting a commemorative event on its anniversary.
The Lectures and Cultural Events Committee coordinates the annual Constitution Day commemoration at Penn State Hazleton by inviting speakers and hosting roundtable discussions.