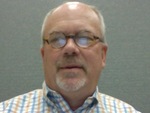 Paul McDermott, Business Instructor and Program Coordinator
301 Schiavo Hall
Phone: 570-450-3533
Email: pam53@psu.edu 
Paul McDermott serves as business program coordinator and instructor in business at Penn State Hazleton. He spent 35 years in management, including a position as director of operations for Phillips Van Heusen and positions with other textile and menswear companies and in healthcare management. He holds a master's of business administration and bachelor's degree in business, both from DeSales University. His research interests include entrepreneurship and consumer behavior.
Dr. Sherry Robinson, Associate Professor of Business
305 Schiavo Hall
570-450-3559
skr12@psu.edu
Dr. Sherry Robinson has studied at Messiah College, Bucknell University, Walden University and the University of Oslo. She co-authored a paper with Hans Anton Stubberud, dean of Buskerud University College's School of Business and Social Science, Hønefoss, Norway, titled "European Entrepreneurs: Problems, Profits and Plans." The paper won a Distinguished Research Award at the Academy for Studies in International Business conference in 2010. Robinson teaches each year in Norway and at Penn State Hazleton. Her students in both countries work on projects together using the Internet. She also brings Norwegian students to Hazleton every summer for summer sessions in entrepreneurship.
Marzieh Bolhassani, Assistant Professor of Economics
205 Schiavo Hall
570-450-3116
mub31@psu.edu
Marzieh Bolhassani earned her doctorate in economics from the University of Wisconsin-Milwaukee. In 2012, she co-authored a paper on the effect of currency exchange rates on trade between Mexico and Canada. It appeared in the Journal of International Trade and Economic Development. She presented findings on exchange rates and trade at the Western Hemispheric Trade Conference at Texas A&M University in 2012. At the 37th Eastern Economic Association Annual Meetings in New York City, N.Y, Bolhassani reported on her research paper: "Inflation-Inflation Uncertainty Nexus: Evidence from Iranian Economy."
Zugang (Leo) Liu, Assistant Professor of Business Administration
208 Schiavo Hall
570-450-3096 
zugangliu@psu.edu
Dr. Zugang "Leo" Liu holds a bachelor's degree in civil engineering from Tsinghua University in China and a master's degree in civil engineering (transportation engineering) from the University of Massachusetts, Amherst, where he also received his doctorate in management. In 2014, Dr. Liu won the Faculty Scholar Award given at Penn State Hazleton to the faculty member who demonstrates outstanding achievement in research, scholarship and creative accomplishment. He teaches about management science, management of supply chains, projects and information systems, as well as business statistics and finance. His research into operations and supply chain management, management information systems and science and investment has been published in various journals, including European Journal of Operational Research, Naval Research Logistics, International Journal of Production Economics, Omega and the Journal of Banking and Finance.